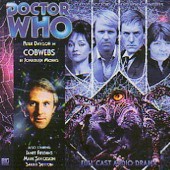 Cobwebs
(Jonathan Morris)

July 2010 sees Peter Davison, in the first of three releases, as the Fifth Doctor, reunited, for the first time in the Big Finish Productions Doctor Who audio range, with three companions. Nyssa played by Sarah Sutton and, making a welcome return to Big Finish Productions, Janet Fielding as Tegan Jovanka and Mark Strickson as Turlough.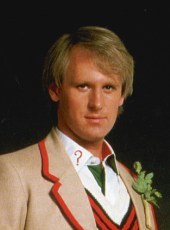 Fifth Doctor

This means that Big Finish Productions have reunited this team for the first time in 26 years. All three have featured in solo audio releases with The Doctor but this the first time they have all appeared together. Executive Producer Nicholas Briggs has revealed. 'Getting these actors together in one studio is a first for us - Janet has only done one play with us before, while Mark now lives in New Zealand. But they've all committed to the project and we couldn't be more excited'.



The idea it seems first came about during the recording of Companion Chronicle story "Ringpullworld" with Mark Strickson. As revealed by Producer David Richardson. 'He and I were chatting in the green room, and he mentioned the fact that he'd be willing to fly back again from New Zealand to record a season of stories. And wouldn't it be nice, if Janet was willing too, to get the whole team back together? I rang Nick and script editor Alan Barnes, and both thought it was a great idea, So I got hold of Janet's number, and rang her up at home one Sunday. Imagine our delight when she agreed!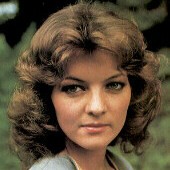 Nyssa

'The three stories were recorded just after Christmas', Nicholas Briggs has revealed. 'And everyone was on brilliant form. It was quite thrilling to hear Peter Davison, Janet Fielding, Mark Strickson and Sarah Sutton - who hadn't acted together since 1983 - recreating their roles so authentically. These adventures sound just like they've fallen through a time warp! The mood during the recording was quite rambunctious, and everyone had such a brilliant time that I wouldn't be surprised to see this team reunited again sometime in the near future...'



The season begins with "Cobwebs" by Jonathan Morris, in which the travellers land on a scientific base which they have clearly visited before. The only thing is it hasn't happened yet... The guest cast includes Helen Griffin ("Rise of the Cybermen/The Age of Steel"), Raymond Coulthard (Hotel Babylon) and Adrian Lukis (Pride and Prejudice, Peak Practice). Also starring is Charlotte Lucas.



This story has been directed by Barnaby Edwards and was recorded on the 29th December 2009 and 4th January 2010.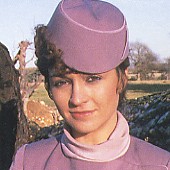 Tegan

'"Cobwebs" is a great story', director Barnaby Edwards has revealed. 'We start out not with The Doctor and the TARDIS, but with Nyssa, and her robot companion. They arrive at this strange, weird, disused medical laboratory. Being a Jonny Morris script, there is a time anomaly, and something that happened in the past is affecting the future'.



Mark Strickson has also stated 'We've got three fabulous stories, and there's an amazing spark! It's like going back in time'.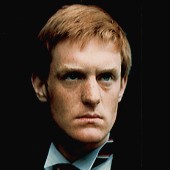 Turlough

But will Nyssa, Turlough and Tegan be different now that all three are back together again in the TARDIS? It would seem that answer is a yes. As Mark Strickson has revealed. 'Tegan's very sarcastic, which brings up the sarcasm in Turlough, so they have a very feisty relationship. She's always trying to put him down, but Turlough continuously gets the better hand, really. He has the put-down lines! And he's treated with more respect by The Doctor, which Tegan of course hates'.



'And Nyssa, as a character, is such a goody-two-shoes that Tegan and Turlough can't bear her! She's so sugary and nice, and she's gonna save the world, and she's always trying to find health cures for people. They sort of respect her - she's lovely - but she's kind of out there on her own. Peter's Doctor really likes Nyssa, and they have a really close relationship, which Tegan and Turlough are both jealous of'.

'So there are a lot of dynamics going on. And some of that, we bring to the script as actors, because we know our characters better than the script-writers do. We've been these characters'.