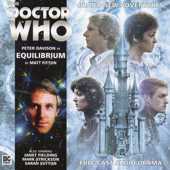 Equilibrium
(Matt Fitton)

The release for February 2015 is "Equilibrium" which has been written by Matt Fitton and directed by Ken Bentley.



This Fifth Doctor story stars Peter Davison. He is travelling with his three companions: Nyssa, played by Sarah Sutton; Tegan Jovanka, played by Janet Fielding, and Turlough, played by Mark Strickson.



Playing the part of Queen Karlina is Annette Badland who played the part of Margaret Blaine in "Aliens of London/World War Three" and "Boom Town". She also played the part of Ursula Crowe in Wizards vs. Aliens.



Also starring are: Nickolas Grace, Joanna Kirkland, John Albasiny and Ella Kennion.



Trapped in E-Space, following the events of "Mistfall", the Fifth Doctor and his companions visit Isenfel, where they encounter a society as ruthless as its environment.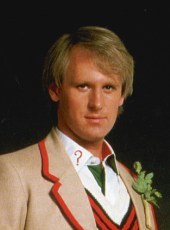 Fifth Doctor

'Alan asked me to come up with a story that would fit between the marshy world of "Mistfall" and the shanty-town of the third story', Matt Fitton has revealed, 'and suggested something snowy. I took that away and thought about it, and came up with the idea of a snowglobe, very enclosed, where nothing would change'.



'The other part of the brief was to make it fit with that feel of the original E-Space trilogy. One world Alan used was "a realm" rather than "a planet". Taking that fairytale aspect, setting it in a snowscape, and sticking in an ice castle, all inside a snowglobe. Frozen came out while I was writing it, so that helped me visualise things as well! Once you have that setting, the idea that everyone has to obey the rules of this world without really knowing why, just because it's always been done like that... It is kind of a fairytale, but one set in E-Space'.



In this story the people of Isenfel have taken concepts established during the original E-Space trilogy to an extreme. 'The idea of equilibrium, and maintaining a constant state, is something that's been talked about in the previous E-Space trilogy, and leading into "Logopolis" - it's all about entropy and matter decaying. I thought at some point people in E-Space would have realised what was going on, and start investigating how to escape the imminent collapse of the universe'.



Two of the main characters, the Queen and the Balancer, are trapped, in a way. 'They're monsters, but they don't realise they're monsters. It's a tricky one for The Doctor - these people are doing horrible things, but The Doctor's going "I can kind of see why you've done it", which is putting him in an almost impossible position'.



'On the light side, I really enjoyed writing Turlough. This team is brilliant - it is tempting to just start a scene with The Doctor, Tegan, Turlough, and Nyssa, and not have anyone else, because you can have them bantering away for ages! So hopefully, they lend it some lightness. Even though it is quite bleak and depressing, it will make people think about where there sympathies lie, with what are not traditional villainous characters. Hopefully it's a world that will envelop the listener'.