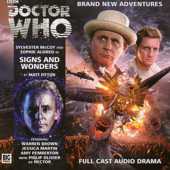 Signs and Wonders
(Matt Fitton)

The second release for September 2014 is "Signs and Wonders" by Matt Fitton. This Seventh Doctor story stars Sylvester McCoy who is accompanied by his travelling companions Ace (played by Sophie Aldred) and Thomas Hector Schofield (played by Philip Olivier). It has been directed by Ken Bentley.



Also staring are: Jessica Martin, Warren Brown, Jemma Churchill and Rory Keenan.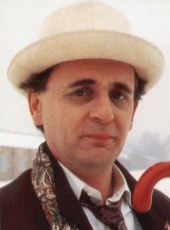 Seventh Doctor

The Doctor, Ace and Hector return to Liverpool in the near future, where a messianic figure called Rufus Stone is gathering people together in anticipation of the apocalypse. There are angels in the skies and giant alien slugs in the Mersey.



This story has been described as being a very dark, modern story, a season finale in the Buffy/Supernatural mould, and marks the end of a chapter in the story of Doctor Who.



Hector Thomas - known, until he returned from death with his memories erased as Hex - has suffered during his time with The Doctor. He's had all sorts of horrors visited upon him and has experienced a pretty rough ride.



Now, it's time for that ride to end. 'Jonny Morris, who script-edited this story, was very keen for it to be a definite ending', writer Matt Fitton, who has been with this character since the beginning, has revealed. 'I was a Big Finish subscriber, so I followed them all as they came out, and yeah, like everyone else, was waiting with bated breath to find out what happened after the end of "The Angel of Scutari", and blown away by "A Death in the Family". It was a huge privilege to get to jump aboard that Hex rollercoaster as a writer, and it's very satisfying to get to see that story through to the end'.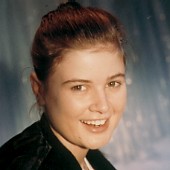 Ace

Former companion Sally Morgan is also back for her friend's final adventure. 'It was nice to be able to play that to its conclusion as well', Matt Fitton has revealed. 'To do three Sally Morgan stories as part of the whole Hex arc, and make everything fit together. I sow little seeds in stories as I go along anyway, which may or may not end up being picked up, so it's nice to tie up lots of loose ends'.



This story starts by taking Hector back home. 'Jonny just wanted it to be an ending, and it was fairly open as to how I ended it, as long as it was an exciting story told well, so the setting and the story and the process was all left pretty much up to me', Matt Fitton has revealed. 'I wanted to go back to Liverpool again, because it feels right for Hex to have significant moments in his life occur there, and once I'd got that setting, then it was about tapping into the whole vibe of something dangerous or powerful lurking under the earth of the north. I should credit Ian Potter who, when we were talking about the Liverpool setting of "Afterlife", made some suggestions about looking at legends of Liverpool. There's that huge history of folklore, set in a port town where you've got this trade with the world. All these different people pass through it, positive and negative. So when I wanted to find a villain, I looked at the legends...'.



As his story concludes, will Hector/Hex finally escape the usual suffering? 'I just wanted to give him an ending which was in keeping with everything that had gone before and would feel not contrived', Matt Fitton has revealed. 'Some people are going to guess what it might be. Some people, it may be a surprise to. But I think it's in-keeping with his character. Is Hector the end of this story? Or does something good come out of it? He's died before - it doesn't mean he can't die again...'.



---
Notes:
Featuring the Seventh Doctor, Ace and Hector
Number of Episodes: 4
Cover Length: 120 minutes
Episode Lengths: 1 = 32'02", 2 = 33'49", 3 = 32'00", 4 = 37'56"
Total Length: 135'47"
Also features 20 minutes of trailers, music and special behind-the-scenes interviews with the cast and producers.
Cover Illustration: Tom Webster
Recorded: TBA
Recording Location: Moat Studios
Released: September 2014
ISBN: 978-1-78178-332-0
---
On the Back Cover:

The end of the world is nigh. That's what everybody is seeing in their nightmares. That's why they are congregating in Liverpool for the party to end all parties, hosted by Rufus Stone, a celebrity turned doomsday prophet. He claims he's the only one who can save them when the day of judgement comes. Because he's on the side of the angels.



The Doctor, Ace and Hector arrive to find the city in the grip of apocalypse fever. There are lights in the sky, earthquakes and power cuts. The Doctor is determined to investigate, while Ace is more concerned about finding a way of restoring Hector's lost memories.



Meanwhile, in the river Mersey, hideous, slug-like creatures are stirring...
---
On the Inside Cover:


Writer's Notes



I've said it before, but there's something special about Hex's journey through the Big Finish universe. A huge element is of course Phil's performance, but it's also the way this character gives us another perspective on the familiar Seventh Doctor-Ace dynamic.



Having brought this particular crew together in Black and White, I'm delighted to be able to pay off the end-game for the Doctor, Ace, Sally Morgan and Hex - even though one of them isn't quite the man he was, and some will never be the same again.



Time and again. Ken Bentley's magic casting wand amazes me. I had a particular kind of voice in mind for Rufus Stone, and Warren Brown fits the bill perfectly. With Jessica Martin, Jemma Churchill and Rory Keenan joining him, how can this be anything less than epic?



And so it should be. It's the finale for a fantastic TARDIS team. It's true that one of the beauties of a time-travelling series is that one day in the future we might hear adventures from the past, but for now, this feels like an ending of an era.



Cheers, Hex lad. You might be gone. But hopefully this way, you'll never be forgotten...

MATT FITTON


Director's Notes



This is it then. The end of the Elder Gods, and the end of Hex.



It's been a bumpy ride for everybody's favourite nurse from Liverpool. He didn't take to Life aboard the TARDIS as easily as some and, as a result, he was certainly put through the wringer. He's faced the Elder Gods numerous times, and so it seems appropriate they're there at the end. It's tricky to know where to draw the line. Hex's departure has been coming for months - maybe even years - like a storm rumbling in the distance, and when it struck, it needed to make sense. It needed to fit the character.



Endings aren't easy. They're awkward. Anyone that's been through a breakup with a partner will know. There's rarely a nice way to do it. In the world of Doctor Who, his companions have had just about every type of exit imaginable, but-for me-Hex's is the most terrifying end of all.



But endings are just new beginnings. Even when a character dies in the world of Doctor Who, it's rarely the last we see of them, so there's really no telling what might happen next.

KEN BENTLEY
---
Full Cast List:
| | |
| --- | --- |
| The Doctor | Sylvester McCoy |
| Ace | Sophie Aldred |
| Hector | Philip Olivier |
| Amy Pemberton | Sally Morgan |
| Reverend Janet Green | Jessica Martin |
| Rufus Stone/To'Koth | Warren Brown |
| Praska | Jemma Churchill |
| Captain Gormley | Rory Keenan |
| | |
The Production Team:
| | |
| --- | --- |
| Writer | Matt Fitton |
| Director | Ken Bentley |
| Sound/Music | Jamie Robertson |
| Theme Music | David Darlington |
| Script Editor | Jonathan Morris |
| Producer | David Richardson |
| Executive Producers | Nicholas Briggs and Jason Haigh-Ellery |