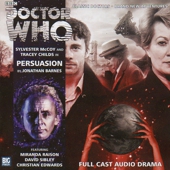 Persuasion
(Jonathan Barnes)

Elizabeth Klein - one of Big Finish Productions' most complex original characters - is back!



The release for July 2013 sees Sylvester McCoy, as the Seventh Doctor, and Tracey Childs, as UNIT's scientific advisor Dr Elizabeth Klein, return in the first of three releases for 2013 - and they'll be facing some of the Time Lord's oldest foes...



This trilogy begins with a story called "Persuasion" and sees Christian Edwards joining the TARDIS crew as new companion Will Arrowsmith.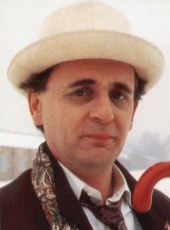 Seventh Doctor

This story has been written by Jonathan Barnes and has been directed by Ken Bentley. It was recorded on the 21st and 22nd January 2013.



This new Klein trilogy is the brainchild of Big Finish script editor Alan Barnes, who's also written its conclusion. As explained by Jonathan Barnes, the writer of this story, 'Alan had a clear idea of the shape of the trilogy. The overall structure of it, but not perhaps some of the individual details, so between the three of us - Alan, Matt Fitton, and me - we thrashed out the finer details of it. Alan's brief to me was that it had to involve the very end of Nazi Germany, 1945, and it had to involve a search for something of intergalactic significance. There was quite a bit of collaboration, which was obviously a great pleasure. I think one of the main things that came out of it was, of course, the creation of the new companion, Will Arrowsmith'.



Will Arrowsmith, who appears in all three stories, is 'very academic', according to Jonathan Barnes. 'He's someone who thinks in very intellectual, theoretical terms. He hasn't yet worked out how to apply that ability to the real world, and that's his story, the arc of his character over the whole trilogy. Christian Edwards, who plays the role, sounds absolutely fantastic. You meet him and he's an extremely cool, laid-back, laconic guy, and you think "Where's Will going to come from out of this dude?", but then in the booth he conjures up a voice from goodness-knows-where inside him and the character is fully-formed!'.



Also staring in this story are: David Sibley, Jonathan Forbe, Paul Chahidi, Miranda Raison and Gemma Whelan.

---
Big Finish Magazine - Vortex: Issue 53 (July 2013)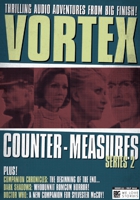 Vortex: Issue 53

Issue 53 of 'Vortex - The Big Finish Magazine' was also sent out to subscribers with this release.



In this issue...
1. Sneak Previews and Whispers – Doctor Who - The Lost Stories: Series Four

2. Editorial - Paul Spragg

3. Article - Measuring Up - Counter-Measures

4. Article - Howells In The Dark - Dark Shadows

5. Article - Will Power! - Will Arrowsmith

6. Vortex Mail

7. Article - Closing Chronicles - Companion Chronicles

8. Article - An Audio Tweet

9. Article - Listen Again - The Stealers From Saiph

10. Forthcoming Releases - July 2013 – April 2014



| | |
| --- | --- |
| Published By: | Big Finish Productions Ltd |
| Managing Editor: | Jason Haigh-Ellery |
| Editor: | Paul Spragg |
| Executive Producer: | Nicholas Briggs |
| Line Producer: | David Richardson |
| Design: | Mark Plastow |
| Published: | July 2013 |
| Page Count: | 24 |
Notes:
Featuring the Seventh Doctor and Elizabeth Klein and Will Arrowsmith.
Number of Episodes: 4
Cover Length: 120 minutes
Episode Lengths: 1 = 27'27", 2 = 23'48", 3 = 25'59", 4 = 30'53"
Total Length: 108'07"
Also features 25 minutes of trailers, music and special behind-the-scenes interviews with the cast and producers.
Cover Illustration: Simon Holub
Recorded: 21st and 22nd January 2013
Recording Location: Moat Studios
Released: July 2013
ISBN: 978-1-78178-075-6
---
On the Back Cover:

The Umbrella Man is back. But when the Doctor recruits UNIT's Scientific Adviser Elizabeth Klein for an off-the-books mission to the apocalyptic final days of Hitler's Germany, he isn't expecting Klein's hapless young assistant, Will Arrowsmith, to be joining them, too.



The Doctor isn't the only alien creature seeking to loot a very particular secret from a Nazi base in Dusseldorf, however. Strange and sinister beings are converging on the same time/space location in search of the scientist Schalk, whose experiments are the key to a devastating power...



The power of Persuasion.

---
On the Inside Cover:


Director's Notes




Persuasion marks the beginning of probably the most complex trilogy of plays I've worked on. Not just the complexity of some of the storytelling (and some of it has the joyful sophistication of a puzzle box), but also the sheer number of worlds visited, accents heard and races met. This first story sees us visit Germany and Greece, as well as having us visited by aliens from at least three worlds or dimensions. It was one of the most colourful audio experiences I've had the pleasure of recording, and a real testament to the craft, skill and talent of the cast to create so many varied and engaging characters.



One of these is amongst the most wonderfully written and most enthusiastically realised characters I've ever had the privilege of working with. Will Arrowsmith was entertaining the moment I read the first draft, and it was a delight to see him brought to life by Christian Edwards, who has created the perfect companion for Klein.



In Persuasion, ideas and events are set in motion that will take us to the stars and back again, and to the past, present and future. Hold on tight. This is just the beginning.

KEN BENTLEY



Writer's Notes


Does any other Doctor change as often and as completely as his seventh incarnation? The TV show alone gives us three distinct phases - the freewheeling improviser of season 24; the arch-plotter of the subsequent two series; the weary, apparently contented man of the opening moments of the American movie. These gaps in the Seventh Doctor's history have always intrigued me. What makes the clown into the chess player, the puppeteer into the melancholic?



What a thrill it was, then, to be asked to write a story set towards the very end of this Doctor's life. Persuasion, which takes place long after Survival, the Black TARDIS trilogy and UNIT: Dominion, begins at a point when the Doctor's persona seems to be in flux once more. I relished the chance to explore some possible reasons for this shift as well as the opportunity to put one of my favourite Doctors in some uniquely high stakes situations. The greatest pleasure, however, in a thoroughly enjoyable process, was the discovery of where Matt Fitton and Alan Barnes planned to take the TARDIS crew in the rest of this trilogy - to some very dark places indeed, after which transformation of one kind or another may well prove inevitable...
JONATHAN BARNES

---
Full Cast List:
| | |
| --- | --- |
| The Doctor | Sylvester McCoy |
| Elizabeth Klein | Tracey Childs |
| Will Arrowsmith | Christian Edwards |
| Kurt Schalk | David Sibley |
| Lukas Hinterberger | Jonathan Forbe |
| The Shepherd/Bondsman Tango-Veldt | Paul Chahidi |
| The Shepherdess/Acquisitor Prime | Miranda Raison |
| Casta/The Sylph/Khlecht Voice | Gemma Whelan |
| | |
The Production Team:
| | |
| --- | --- |
| Writer | Jonathan Barnes |
| Director | Ken Bentley |
| Sound/Music | Andy Hardwick |
| Theme Music | David Darlington |
| Script Editor | Alan Barnes |
| Producer | David Richardson |
| Executive Producers | Nicholas Briggs and Jason Haigh-Ellery |