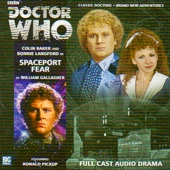 Spaceport Fear
(William Gallagher)

The release for February 2013 is "Spaceport Fear" - a Sixth Doctor and Melanie Bush story starring Colin Baker and Bonnie Langford.



This story has been written by William Gallagher and has been directed by Barnaby Edwards. It was recorded on the 5th and 6th September 2012.



Guest star Ronald Pickup, whose film credits include The Best Exotic Marigold Hotel and Prince of Persia: The Sands of Time, plays Elder Bones. He has also played the part of the Physician in the 1964 First Doctor story "The Reign of Terror" and as Kestorian in the Eighth Doctor audio story "Time Works".



Also staring are: Ronald Pickup, Isabel Fay, Gwilym Lee, Beth Chalmers, Adrian Mackinder, John Banks and Barnaby Edwards.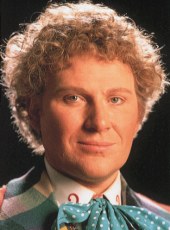 Sixth Doctor

'This is a real "does what it says on the tin" title', Script Editor Alan Barnes has stated. 'The Doctor and Mel trapped in an alien spaceport, 400 years after the last departure. It's by William Gallagher, whose quirky horror style made his previous story "Wirrn Isle" such a success'.



'Last time I was writing for the trilogy that introduced Flip', William Gallagher has revealed, 'so there was a lot of discussion about her and how the three stories worked together. But Mel is much more established, so with this the first I really knew about the other two stories is when I pitched an idea that turned out to be preposterously close to next month's concluding one. Mine wouldn't have been as good, to be frank, as Matt Fitton and Nick Briggs had already found much more and gone much further than my idea, but the core was too similar. Mine did have a spaceport, though, and really everything since grew out of that one word and that one setting'.


The fact that the new Mel stories are standalone allowed William Gallagher more freedom than he'd had with "Wirm Isle". 'All I was given this time was the Sixth Doctor and Mel. But even more than with "Wirm Isle", it all grew in the discussion with Alan Barnes. Everything did, but most especially the monster. Until this story, I would've told you that I am rubbish at creating monsters: I felt fortunate to be given the Wirrn before, and I will forever believe that humans make the best adversaries, but this time I am very proud of my Wailer. Well, less 'my' Wailer and more 'ours' - Alan kept finding ways to make it nastier'.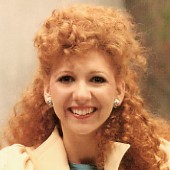 Melanie

'I did feel an obligation to Mel', William Gallagher has stated, 'or maybe really to Bonnie Langford. I wasn't a fan of the character, but I was and am a fan of Bonnie's, so I was determined to give her lots to do and my sole disappointment in Spaceport Fear is that a fluke of my schedule meant I wasn't able to meet Bonnie at the recording'.



'I love confined spaces in drama, and the spaceport gave me something new: it is a very, very big space that feels confined because it's in darkness. So I hope we have something of a scarily epic journey across the spaceport. There is a moment when I had to find a way for a character to light up the place and it took me an entire day to think of it but it was worth every minute. Because now you get about one second of thinking how clever that character is, then I hope you get a shiver because you realise how dangerous the idea really is. And then of course there is always the question of what you're going to see when you turn on the light'.