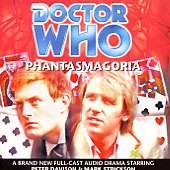 Phantasmagoria
(Mark Gatiss)

Big Finish Production's second audio story is "Phantasmagoria" which was recorded on the 26th and 27th June 1999 and was released on 4th October 1999. Written by Mark Gatiss and directed by Nicholas Briggs it stars Peter Davison, as the Fifth Doctor, and Mark Strikson, as Turlough. Also starring are: Nicholas Briggs, David Walliams, Jonathan Rigby, Mark Gatiss, Jez Fielder, David Ryall, Steven Wickham and Julia Dalkin.

This is a thriller which sees the TARDIS materialises in 18th century London, where someone is terrorising the higher echelons of society using apparently paranormal means. Something devilish is stalking the streets of London and in the Diabola Club members amuse themselves with the usual gambling and gossiping. One of the members is Sir Nikolas Valentine, a solitary player who claims to be playing a game of his own devising. Some claim that Valentine is in league with the devil himself.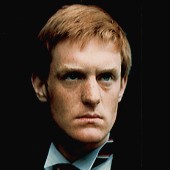 Turlough

The Doctor learns of some unusual disappearances and deaths of late and is curious why, on further investigation, there seems to be no common link between the missing men. Turlough finds himself separated from The Doctor and involved with Jeake and Flowers who turn out to be members of the Diabola Club and who are curious about Sir Nikolas Valentine. At a chance meeting The Doctor and Turlough are reunited and when The Doctor shows Jeake the list of missing men he identifies them all as members of the Diabola Club. The Doctor decides to visit the club so as to investigate further. It is not long before he to becomes curious about Sir Nikolas Valentine.

The Doctor becomes even more curious when he finds out that all the patrons of the Diablo Club who, after losing at cards to the charming Sir Nikolas Valentine, seem to then disappear in mysterious circumstances. What is the secret of the screaming walls which also weep blood? Why are two aliens in London and what are they looking for? And what is the connection with the charming highwayman Lovemore?



As The Doctor unravels the truth it becomes apparent that they are facing an enemy who could wipe London off the face of the Earth forever...


Notes:
Featuring the Fifth Doctor and Turlough.
Serial Number: 6P/A
Number of Episodes: 4
Cover Length: 100 minutes
Episode Lengths: 1 = 19'37", 2 = 21'54", 3 = 21'19", 4 = 26'09"
This story takes place between "Resurrection of the Daleks" and "Planet of Fire".
Cover Illustration: James Arnott
Recorded: 26th and 27th June 1999
Recording Location: NU Groove Studios
Released: October 1999
---
On the Back Cover:



The TARDIS takes The Doctor and Turlough to the London of 1702 where a mysterious highwayman roams the streets, a local occultist has made contact with the dead, and gentlemen of fashion are disappearing, only to find themselves in a chamber whose walls weep blood...



The time-travellers become enmeshed in the hideous plans of Sir Nikolas Valentine, a gambler at the mysterious Diabola Club who always seems to have a winning hand...
---
On the Inside Cover:



The idea for this story came from a League of Gentlemen sketch in our 1997 Edinburgh show about an 18th century saloneer who may or may not be playing cards with the Devil...



I'm a great fan of Restoration comedy and I've always wanted to do something that used that atmosphere of decadent gentlemen's clubs, coffee houses and foppery. Pseudo-historicals are my favourite Doctor Whos and I wrote this adventure with something approaching glee. The setting is pretty underused and I thought it would be ideal for a spooky mystery that also allowed Peter Davison's Doctor to have a bit more fun.



We certainly enjoyed the recording and a really committed cast gobbled up their parts with obvious relish. It's been great to be in at the start of an exciting new beginning for the show.



Long may it continue...
Mark Gatiss,
July 1999
---
Full Cast List:
Part One
The Doctor
Peter Davison
Turlough
Mark Strickson
Henry Gaunt
Nicholas Briggs
Quincy Flowers
David Walliams
Edmund Carteret
Jonathan Rigby
Jasper Jeake
Mark Gatiss
Poltrot
Jez Fielder
Sir Nikolas Valentine
David Ryall
Dr. Samuel Holywell
Steven Wickham
Hannah Fry
Julia Dalkin
Part Two
The Doctor
Peter Davison
Turlough
Mark Strickson
Edmund Carteret
Jonathan Rigby
Dr. Samuel Holywell
Steven Wickham
Hannah Fry
Julia Dalkin
Sir Nikolas Valentine
David Ryall
Jasper Jeake
Mark Gatiss
Quincy Flowers
David Walliams
Poltrot
Jez Fielder
Part Three
The Doctor
Peter Davison
Turlough
Mark Strickson
Hannah Fry
Julia Dalkin
Dr. Samuel Holywell
Steven Wickham
Quincy Flowers
David Walliams
Sir Nikolas Valentine
David Ryall
Jasper Jeake
Mark Gatiss
Libarian
Jez Fielder
Part Four
The Doctor
Peter Davison
Turlough
Mark Strickson
Major Billy Lovemore
Jez Fielder
Sir Nikolas Valentine
David Ryall
Dr. Samuel Holywell
Steven Wickham
Quincy Flowers
David Walliams
Hannah Fry
Julia Dalkin
Jasper Jeake
Mark Gatiss
The Production Team:
Writer
Mark Gatiss
Director
Nicholas Briggs
Sound/Music
Alistair Lock
Theme Music
Mark Ayres
Producers
Gary Russell and
Jason Haigh-Ellery
Executive Producer for the BBC
Stephen Cole