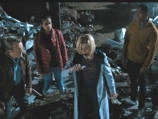 Scavenging

On an alien junkyard planet called Seffilun 27, The Doctor with her three travelling companions, Graham O'Brien, Ryan Sinclair and Yasmin Khan, are hunting for something that The Doctor desires with special detectors retrieved from the TARDIS which can be seen nearby.



As The Doctor is scavenging through all the space junk she finds something of interest. But suddenly realises that what she has discovered is a sonic mine and she has accidentally triggered it. Before any of them have the opportunity to escape, to a safe distance, it explodes.



The Doctor awakes aboard the Tsuranga, an automated hospital spaceship travelling to a medical space-station. She is relived to discover that the others are all okay. Despite her own apparent pain in her side she starts to explore their new surroundings, meeting some of the other patients being transported - Eve Cicero, a renowned general; her brother Durkas; Eve's synth robot partner Ronan; and Yoss, a pregnant Gifftan male.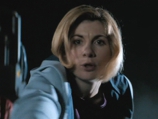 Bomb Disposal

After gaining access to the spaceship's systems, The Doctor and head nurse Astos notices something heading for the spaceship. Realising that it is an alien entity which has now gained access to the spaceship, the pair find it damaging the escape pods. Astos becomes trapped in one as he is inspecting it, and is killed when the escape pod is jettisoned into space and explodes.



Helped by Mabli, Astos' colleague, The Doctor learns that the alien entity is a Pting, a creature that eats non-organic material and is classed as highly dangerous. Also learning that the spaceship will be remotely detonated if the space-station detects the creature aboard, The Doctor therefore works desperately to prevent this happening.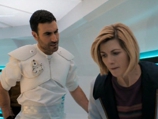 Astos Helps The Doctor

While Yasmin and Ronan try to defend the spaceship's power source from the Pting, Ryan and Graham offer to help Mabli when Yoss enters labour. Meanwhile, The Doctor, Eve and Ronan focus on maintaining control of the spaceship.



During this time, The Doctor learns that Eve has a critical heart condition that could kill her and that she has lied to her brother about what she is suffering from. Despite this, Eve sacrifices herself to protect everyone aboard the spaceship, before Durkas assumes control in her place.



As The Doctor works on her plan, she suddenly discovers that the Pting is attracted to energy sources, its true food source. Realising that the spaceship must have a built-in bomb in its power source, The Doctor removes and primes it. Tricking the Pting into eating it, she ensures the energy of the blast feeds it, before jettisoning the Pting into space.



Shortly afterwards the Tsuranga safely arrives at the space-station, while Ryan and Graham help Yoss with his labour to produce a healthy baby. Before leaving to recover her TARDIS with the others, The Doctor joins Mabli and the patients in honouring the death of Eve for her courage in saving them.