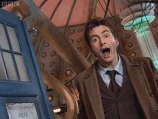 Fancy a trip in the TARDIS?

Fancy a trip in the TARDIS?



The Doctor has dropped off Rose at an ABBA concert so he's going to need your help. After he has connected your digital remote control to his sonic screwdriver you can help him find out what's gone awry with an ordinary family on Christmas Day.



Mum, Dad, grandma, grandad, and a little boy and girl are all in the living and dining room, going through their presents and enjoying Christmas.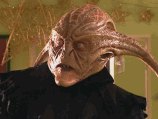 The Graske

But not everything is at it seems. While eveyone is milling about the mother's eyes briefly glow yellow and moments later an alien materialises on the dining-room table and zaps the dad with a hand-held control, replacing him with an exact duplicate whose eyes also briefly glow yellow.



You and The Doctor monitor all this on the TARDIS scanner and The Doctor identifies the alien as a Graske, one of a species that takes over planets by replacing their populations with duplicates.



It is therefore up to The Doctor, with the assistance of the viewer, to follow the Graske's trail. This trial at first leads the TARDIS to a street in London on Christmas, 1883, where the Graske zaps another victim, and then onto Gryffoth, the Graske's home planet.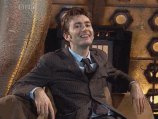 The Doctor

There you find yourself in the chamber where the Graske stores their victim's bodies. It seems they need to keep the originals alive in order to sustain the copies. As the Graske transfers his two latest victims into the cubicles, he spots you and opens fire but misses and the ricochet blasts open one of the cubicles and releases an angry Slitheen. This is your chance to reach the controls. But you only have time to do one of two things: reverse the settings, which will destroy the duplicates and teleport the originals back home; or use the stasis controls to freeze everything except you in place.



One leads to a happy ending where everyone is transported back home and so, back in the family house, the proper dad and mum snap back to normal and start having fun with their family. Or, if you choose to operate the stasis field, you freeze time and so everyone stays right where they are... including all of the Graske's victims which leads to a very unhappy Christmas for our family.



Don't worry if you get it wrong. The Doctor is not angry - it is your first trip - and you can always try again... and again... and again...

'Fancy a trip in the TARDIS?'
The Doctor
Format
Title
Release Date (UK)
Code Number
Cover Art
Remarks

DVD

No DVD release.
Format
Title
Release Date (UK)
Publisher
Author
Cover Art
Remarks

Novel
No Book release.
| | |
| --- | --- |
| Doctor Who Magazine Archive: | |
| Doctor Who In-Vision Magazine: | No In-Vision release. |