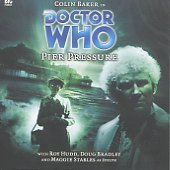 Pier Pressure
(Robert Ross)

The first story for 2006 is by Robert Ross and his second audio play after Medicinal Purposes that was released in 2004. This release is titled "Pier Pressure" and is a Sixth Doctor story starring Colin Baker with Maggie Stables as companion Evelyn Smythe. It is directed by Gary Russell and was recorded on the 21st and 22nd September 2005.



This story features a guest appearance by Roy Hudd – the famous comedian and actor best known for his very long-running radio series The News Huddlines. He has also been in Up Pompeii, and as the undertaker Archie Shuttleworth in the popular ITV soap opera Coronation Street.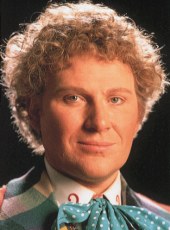 Sixth Doctor

Roy Hudd plays the role of Max Miller - a legendary comedian enshrined by a statue in Brighton where "Pier Pressure" is set in the early 20th century.



Also starring are: Doug Bradley, Sally Ann Curran, Martin Parsons and Chris Simmons.



A holiday is required for The Doctor and his companion Evelyn Smythe but instead of landing at Blackpool - their desired location – the TARDIS takes them to Brighton on the south coast of England in 1936.



There, as they stroll down Brighton's seafront, a newsboy announces the headline of a local newspaper "Murder! Cold blooded murder!". The Doctor's curiosity leads to an encounter with legendary local comedian, cheeky chappie Max Miller in a local pub and it is there that The Doctor and Evelyn learn more about the strange sounds and mysterious disappearances and that they all seem to be originating from the West Pier.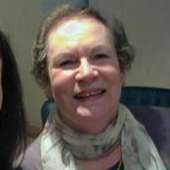 Maggie Stables

Despite Maxie's public image rivalling The Doctor's attire for garishness his career is currently becalmed and so he is more than willing to become involved in helping The Doctor and Evelyn to investigate the strange goings-on around the town.



The Doctor and Evelyn soon find themselves in the thick of things and The Doctor's attitude changes from petulance to anger, from quiet contemplation to outright disgust as they discover the enormity of the threat that they have uncovered especially with regards to the mysterious Professor Talbot who it seems is responsible – despite the fact that he has been dead for fifteen years…



Could the entire town be cursed by something not of this world? What lies behind the local spate of vanishings and unearthly screams and whose long-neglected pier stall is the focus? What is causing the weird glow in the sea around the pier and saps the strength of anyone who tries to approach? Could the odd things happening be connected with The Doctor's arrival? And will Maxie turn the air blue tonight?



As more deaths occur, including that of Emily who they earlier also met in the pub and whose possessed body attacked them while they investigated Professor Talbot's stall on the pier, The Doctor confronts Professor Talbot and discovers that he is in fact working for a much greater force – a parasite that centuries ago crashed landed in the sea, in a meteorite, and so now infects the whole pier. But it seems that Professor Talbot is losing what little control over the alien parasite and so it is up to The Doctor to find a way of defeating the parasite.



But this enemy is one which The Doctor discovers is very hard to dispose of completely – lucky for him a comedian turn by Max Miller and the West Pier itself comes to his aid.
Notes:
Featuring the Sixth Doctor and Evelyn Smythe.
Serial Number: 7CMA
Number of Episodes: 4
Cover Length: 125 minutes
Episode Lengths: 1 = 29'49", 2 = 36'30", 3 = 26'46", 4 = 31'38"
Total Story Length: Length: 124'32"
This story takes place between "The Trial of a Time Lord" and "Time and the Rani" and follows on from "Medicinal Purposes".
Early Title: "Seventh Heaven".
Cover Illustration: Stuart Manning
Recorded: 21st and 22nd September 2005
Recording Location: The Moat Studios
Released: January 2006
ISBN: 1-84435-166-1
---
On the Back Cover:



Brighton, West Sussex; 1936

''Ere, listen, listen, I've got one for you. There once was this bloke, you see. Good-looking sort of chap. Lovely, brightly coloured coat. No rubbish. Quality gear. Never bought a drink neither... or so they say. But his name wasn't Miller. Oh no, there'll never be another Cheeky Chappie, lady, there'll never be another. They broke the mould when they made me you know.



'No, this bloke called himself The Doctor. Doctor who you ask? And may well you. Don't know me self. No one ever knew. Funny that. He was a real strange one. Odd things happened when he arrived.



'Mind you, them were dark days. No one was laughing. And these were my people. My public. It was like playing first house at the Glasgow Empire. Just like the entire town was cursed it was. Cursed by something not of this world...'
---
On the Inside Cover:



It's been just over a year since Medicinal Purposes, my first effort for Big Finish, emerged... and I'm very glad to see how well young Daft Jamie has done for himself since. As for my second stab, I've been allowed total self-indulgence and this time the jokes were at the forefront of my mind. Brighton has always been one of my favourite places since happy childhood holiday memories of the Theatre Royal, the pebbles, the piers and, of course, The Leisure Hive. Indeed, since this script was commissioned, Brighton has been the site of an exhibition about a certain science fiction television series. Brighton was also the hometown of the cheeky chappie himself, Max Miller.



I'm delighted to be blessed once again with an impeccable cast, who seemed to have an absolute ball in the studio - including an unexpected cameo from a Doctor Who legend! In terms of guest stars, it was a dream come true when Roy Hudd signed up to play his own comic hero, Max Miller. Investing the role with a lifetime's experience and knowledge of music hall, Roy is Max. It's an astonishing performance and marks an enjoyable reunion between Roy and his Hiss and Boo colleague, Maggie Stables. Battling the good Doctor, Evelyn and the Pure Gold of Music Hall is an actor synonymous with the best in screen terror. Doug Bradley's Pinhead from the Hellraiser films remains one of the great icons of horror cinema. Having attended the recording, it was an honour to see the cast bring my words to life and if, as director Gary Russell commented, the whole piece begins to sound something like Carry On Brighton at times, then so be it. It's not a million miles from my intention!


Robert Ross,
October 2005

Robert Ross is one of the foremost experts on British comedy, having written books on everything from Monty Python and the Carry On films to Last of the Summer Wine and Fawlty Towers, as well as numerous biographies. This is his second audio script for Doctor Who and he is currently working on a third. Oh, no, he isn't. Oh, yes, he is…
---
Who's Who?

The Sixth Doctor

First television appearance: "The Twin Dilemma"
First chronological Big Finish audio appearance: "Davros"



He has been exploring the universe for hundreds of years. He fights injustice. He defeats evil. He helps people. The Doctor was travelling alone when he met Evelyn Smythe, a companion who has had a calming effect on him, and a deep bond of friendship and respect has quickly developed between the two. More used to loud, energetic youngsters, The Doctor has appreciated the change of gear the chocolate-cake-loving divorcee has brought into his life.


Evelyn Smythe

First Big Finish audio appearance: "The Marian Conspiracy"



When she first encountered The Doctor, Evelyn Smythe was a history lecturer at Sheffield's Hallam university. He took her on an adventure involving her ancestors in the sixteenth century - which led to Evelyn joining The Doctor in his travels. Unbeknownst to him, Evelyn was resisting efforts by the university administration to retire her due to a possibly fatal heart condition, and so she took the opportunity to explore both history and the wider universe with relish. Amongst the many people and places Evelyn has encountered are Charles Darwin, Burke and Hare, the planet Világ and, most recently, an alien invasion of Brighton.
---
The Cast Gallery:
The Sixth Doctor - Played by Colin Baker

'I've come to the conclusion that I attract trouble. Or trouble attracts me.'
Evelyn Smythe - Played by Maggie Stables

'That's the difference between you and me, Doctor. Sometimes, just sometimes, I could happily turn away and never face a problem that might not even be a problem.'
Max Miller - Played by Roy Hudd

'Don't go giving me tales of sea monsters. Not tonight. I've heard more stories than you'll ever know.., and I can't tell any of 'em on the National Programme.'
Billy - Played by Martin Parsons

'I reckon watching a true pro like you, Mr Miller... it's just the tonic someone like me needs.'
Professor Talbot - Played by Doug Bradley

'These things take time. Power must be earned. There are some things that simply can't be bought.'
Emily - Played by Sally Ann Curran

'And we heard this ungodly noise.., bellowing like some beast... from the ocean it came, sir.., right from the ocean bed.'
Albert - Played by Chris Simmons

'Look! I've seen enough Bela Lugosi films to know the difference between wind in the trees and owls hooting and doors creaking and something supernatural.'
---
Full Cast List:
| | |
| --- | --- |
| The Doctor | Colin Baker |
| Evelyn Smythe | Maggie Stables |
| Professor Talbot | Doug Bradley |
| Emily Bung | Sally Ann Curran |
| Max Miller | Roy Hudd |
| Billy | Martin Parsons |
| Albert Potter | Chris Simmons |
The Production Team:
Writer
Robert Ross
Director
Garry Russell
Sound/Music
Andy Hardwick
Theme Music
David Darlington
Producers
Gary Russell and
Jason Haigh-Ellery