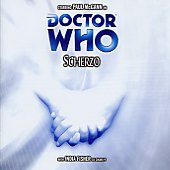 Scherzo
(Robert Shearman)

To set the third audio season for the Eighth Doctor on its start of a four part run December 2003 sees Robert Shearman's "Scherzo", which has been described as 'a powerful and highly emotional start to the new run'. This is Robert Shearman's fifth Big Finish Doctor Who Audio story and his sixth for Big Finish Productions.



This story is a 'two-hander' and follows in the footsteps of the First Doctor story "The Edge of Destruction" by having no additional characters except for The Doctor and his fellow time travelling companions. So with no supporting cast "Scherzo" just stars Paul McGann, as the Eighth Doctor, and India Fisher, as his companion Charley Pollard. It is directed by Gary Russell and was recorded 16th May 2003.



According to Producer/Director Gary Russell:

"Rob Shearman came to me wanting to write another Eighth Doctor adventure. Always looking for ways to throw a spanner in Rob's plans, I immediately said to him 'okay, but only if you write me a two-hander'. He responded by saying 'alright then, but it's called Scherzo and has no incidental music at all'. Only Rob could give us a music-themed play with no music!

"Normally when we do Big Finish audios, we do rehearse/record for each scene, usually wilfully out of order and all over the shop. As this was a two-hander, I thought it best to do a straight read-through of all four episodes. This was then followed by a straight recording of all four, stopping only to accommodate page turns, line corrections and the odd fit of the giggles - never has one actor wrung so many minutes of downtime from one line!

We recorded this one last because I thought after a week's worth of recording, the actors involved would be more relaxed and more in-the-swing of things. It's going to make a powerful and highly emotional start to the new run."



The Doctor it seems is not pleased that his companion, Charley, has followed him on his latest journey. But why is Charley so unwelcome? More importantly where exactly are they? They're alone, frightened and can't see a single thing in a starkly empty new world. All they have is themselves and nothing to do but to deal with the emotional ramifications of both "Neverland" and "Zagreus" and how the recent turbulent proceedings have effected them and the strains it has placed upon their relationship.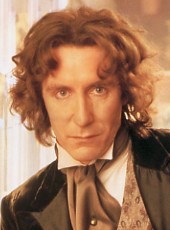 Eighth Doctor

To make matters worse it appears that the TARDIS has broken down. With nowhere to go they have no choice but to start walking into the brightness. And so The Doctor and Charley are left to fend for themselves in a macabre, unreal environment. They also have to come to terms with the knowledge that everything they ever knew is now gone, except that is that they still have each other.



But how did they get into this precarious position and how is The Doctor going to come to terms with the sacrifice he has made by leaving our Universe so that others might live? Especially that of Charley who has followed The Doctor into the divergent universe against his wishes.



With the conclusion of "Zagreus" it was revealed just how deeply The Doctor was affected by his experiences. This has left him a far more bitter and jaded individual who seems to be resigned to his fate especially as he feels he is redundant within this new universe. Without any fixed notion of time, what use is a Time Lord when there is nothing but a linear passage where time passes and is gone forever - something which may be normal for a human like Charley. But for a Time Lord like The Doctor this could be classed as torture.



While Charley believes wholeheartedly that they need each other and that The Doctor will still find a way out of the predicament that they find themselves in and that The Doctor can get them back to reality. She soon learns though, as they wander blindly around, that her actions have been perceived by The Doctor as a betrayal of his own act of sacrifice, so that she would be safe. Yet while the Eighth Doctor's attitude may have changed, and that while he doesn't understand Charley's actions and harbours a degree of resentment towards her for them, he still cares about her.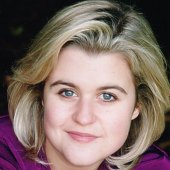 India Fisher

But nothing can go so smoothly - The Doctor soon realises that the void that they are in is slowly being destroyed and that his words and actions nearly drives Charley away. And then when they find the body of a dead alien Charley has to come to terms with having to eat its raw flesh if they are to survive. After discovering more dead bodies it soon dawns on them that their plentifully supply of food is infact the same dead corpse and that they have been going around in circles in more ways then one.



Then the strange sounds start - which really spooks them especially when it dawns on them that they themselves have introduced this creature of sound into the void and that it is composed purely of the sounds that The Doctor and Charley have inadvertently made since leaving the safety of the TARDIS. But worse still The Doctor realises as the creature's own evolution begins it is leaving The Doctor and Charley behind and so is jeopardising their own existence. To Charley's horror he asks her that if she really trusts him that she must cut his throat and as he screams a cacophony of music is released…



The creature of sound though turns out to be their salvation as it forces The Doctor and Charley to come together and to work together as the team they once were. Together they confront their fears regarding their uncertain future and by doing so they recognise how much they mean to each other and gain confidence in the fact that they can not only survive this new universe, but with each other's help, they can positively thrive within its confines.


---
Big Finish Magazine - Issue 4 (Winter 2003)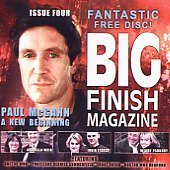 Big Finish Magazine
- Issue 4

Released with this story is a free bonus CD containing the fourth issue of the "Big Finish Magazine".



Doctor Who's newest companion, Conrad Westmaas, takes us behind the scenes of Big Finish's more recent releases...



Audio articles in this issue include:



Doctor Who - Big Finish's third season of Eighth Doctor audios kicks off with Scherzo. In this in-depth feature, the season's cast - including Paul McGann, India Fisher, Conrad Westmaas, Michael Keating and Alan Rothwell - and producer Gary Russell discuss how the season shapes up and look ahead to all four stories.
2000 AD - Mega-City One's main guy, Judge Dredd himself (aka actor Toby Longworth), talks us through Big Finish's range of pump-action, diesel-fuelled audios set in the worlds of 2000 AD.
Doctor Who Villains - 2003 saw a loose trilogy of Doctor Who adventures pitting The Doctor against three of his old enemies. We hear from all three returning villains.
Professor Bernice Summerfield - Benny's creator, Paul Cornell, discusses the archaeology adventuress's audio and book ranges…
Doctor Who Unbound - In a follow up the the behind-the-scenes feature on Big Finish Magazine #3, we catch up on the final Doctor Who Unbound play, Exile, which brings us the Female Doctor, played by Arabella Weir.

Big Finish would like to thank all those actors, writers, directors and everyone else who took part, rather than fleeing in a panic when, the interviewers approached them!



Presentation by Conrad Westmaas. Sound design, post production and CD mastering by David Darlington. Sleeve by Lee Binding. Compiled and produced by Ian Farrington. Length 1 hour 13 minutes.


Notes:
Featuring the Eighth Doctor and Charley Pollard.
Serial Number: 8N
Number of Episodes: 4
Cover Length: 100 minutes
Episode Lengths: 1 = 19'55", 2 = 22'38", 3 = 22'07", 4 = 24'32"
Total Story Length: 89'12"
This story takes place after "Doctor Who: The Movie" and follows on from last month's "Zagreus".
Cover Illustration: Steve Johnson
Recorded: 16th May 2003
Recording Location: Christchurch Studios
Released: December 2003
ISBN: 1-84435-035-5
---
On the Back Cover:



Once upon a time…



There were two friends, and together they travelled the cosmos. They thwarted tyrants and defeated monsters, they righted wrongs wherever they went. They explored the distant future and the distant past, new worlds and galaxies, places beyond imagining.



But every good story has to come to an end.



With no times or places left to explore, all the two friends have now are each other. But maybe that's one voyage too many. Maybe they'll discover things they'd rather have left undisturbed... hidden away in the suffocating, unfeeling, deafening brightness.



Once upon a time. Far, far away.
---
On the Inside Cover:



IF MUSIC BE THE FOOD of love, play on...



I wrote Scherzo on my honeymoon. Not all of it, of course. (Or else, no sooner had I got married, than my abandoned wife would have filed for divorce!) But it seemed a perfect time to reflect upon love. It batters us and bruises us, but still we come back for more. It makes us capable of great acts of heroism and self-sacrifice - but also cruelty, both deliberate or unwitting.



It seemed to me the ideal subject for a Doctor Who story.



This is dedicated to my wife Janie, who did no more than raise an amused eyebrow when I'd scuttled down to the poolside with my notebook. And to die other love of my life, Doctor Who - as its anniversary year ends and a new beginning awaits.


Robert Shearman,
October 2003

Robert Shearman used to be a top class, award-winning young playwright. Then he got involved with Big Finish and began writing Doctor Who audios. His audio dramas, which include The Holy Terror, The Chimes of Midnight and Jubilee, have been terribly well received, and so recently he wrote a Doctor Who Unbound play, Deadline, about a writer, who used to be an award-winning young playwright trapped into writing popularist nonsense. Robert assures us it's in no way autobiographical but we're not sure we believe him…
---
Production Notes:



When asked during an interview to cite their personal favourite Doctor Who audio adventure, both Paul McGann and India Fisher had no hesitation in saying that it was The Chimes of Midnight by Robert Shearman. Indeed, in 2003 readers of Doctor Who Magazine not only voted The Chimes of Midnight as their favourite audio adventure of 2002, but it actually took pole position as their favourite Doctor Who audio adventure ever! Therefore, when deciding that he wanted this third run of Eighth Doctor adventures, set in the new universe, to commence with a character-led two-hander starring just Paul and India, producer Gary Russell knew exactly who to ask. He felt Rob's background in both theatre and more traditional radio drama, plus of course his enviable ability to turn the one-line description "a two-hander, Doc & Charley alone, lost in a new universe and being somewhat fractious" into four episodes of lyrical, emotional and exciting drama, made him the obvious choice. The photos we obtained of him which he doesn't want his wife to ever see were of some encouragement too, we feel...
---
Full Cast List:
| | |
| --- | --- |
| The Doctor | Paul McGann |
| Charley Pollard | India Fisher |
The Production Team:
Writer
Robert Shearman
Director
Gary Russell
Sound/Music
Russell Stone
Theme Music
David Darlington
Producers
Gary Russell and
Jason Haigh-Ellery
Executive Producer for the BBC
Jaqueline Rayner