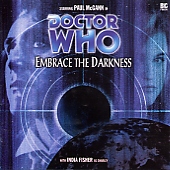 Embrace the Darkness
(Nicholas Briggs)

"Embrace the Darkness" is the title of the release for April 2002. It is written and directed by Nicholas Briggs and was recorded on the 22nd, 25th and 26th January 2001.



This story, the fourth of the Eighth Doctor's second audio season, is the second Eighth Doctor story to be both scripted and directed by Nicholas Briggs. After last season's "Sword of Orion". Briggs has been busy for much of 2001 writing, directing and producing the Dalek Empire quartet of CD stories; yet this story is not his only contribution to the 2002 season featuring Paul McGann. For good measure, he also directed next month's release "The Time of the Daleks".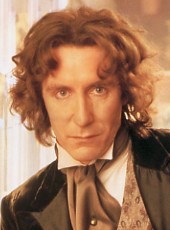 Eighth Doctor

Despite being in the middle of this second season of audio plays "Embrace the Darkness" was the last to be recorded in the January 2001 recording session at the end of a quite strenuous and taxing two-week schedule.



Alongside Paul McGann, as the Eighth Doctor, and India Fisher, as companion Charley Pollard, are: Nicola Boyce, Lee Moone, Mark McDonnell and Ian Brooker.



Taking action to avoid others in the Vortex, The Doctor places the TARDIS within sight of the Cimmerian system which, according to the TARDIS Databank that Charley accesses, is described as:



"Cimmerian: Of darkness. Of the Cimerii, a people fabled by the ancients to live in perpetual darkness."

So named by Throxillian explorers after its sun vanished and intrigued by legends about the star's disappearance, The Doctor and Charley find themselves intercepted by an automated Rescue Operational Security Module (ROSM) and transported to its space craft that is en-route to Cimmerian IV.



The Doctor and Charley soon discover that the implacably logical ROSM is programmed to rendezvous with a small Throxillian party at the Cimmerian IV scientific base. They think the planet is uninhabited, but someone has already attacked the base, plunging its inhabitants into darkness.



The Doctor is intent on investigating the ancient mystery of what could have happened to make a sun vanish. But in the scientific base things have already turned into an emergency, which means The Doctor and Charley are heading straight into darkness and into grave trouble but first they must evade the ROSM's ruthless protection of its mission objectives and before it terminates "Bio Hazard Charley".



Charley in escaping from being terminated by the ROSM finds herself transported in an escape pod which takes her to Cimmerian IV. There she finds out what has happened to the members of the scientific base and why they think that they have entered the Darkness but in fact have lost their ability to see. However, before she can come to terms with this horrific discovery she too finds herself at the mercy of the alien invaders and subjected to the same "treatment".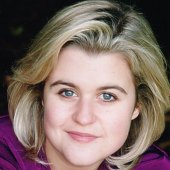 India Fisher

Meanwhile The Doctor also finds himself in the Cimmerian IV scientific base with the Rescue Operational Security Module T723 Roving Assault Unit 1. But this deadly artificial life-form is experiencing dire difficulties of its own.



With alien particles flooding the base it is up to The Doctor to discover if there really are Cimmerians attacking the base and if so what could their purpose be in spreading darkness and what long-dormant peril will be awoken should the darkness be lifted?



The Doctor has a plan to banish the darkness - but will he be to late and could he have made a terrible mistake?



In a fight for survival, The Doctor must use all his wits against an ancient race whose return to the Cimmerian System threatens suffering and death on an apocalyptic scale.


Notes:
Featuring the Eighth Doctor and Charley Pollard.
Serial Number: 8J
Number of Episodes: 4
Cover Length: 110 minutes
Episode Lengths: 1 = 30'17", 2 = 35'05", 3 = 27'18", 4 = 32'18"
This story takes place after "Doctor Who: The Movie".
Cover Illustration: Clayton Hickman
Recorded: 22nd, 25th and 26th January 2001
Recording Location: Christchurch Studios
Released: April 2002
ISBN: 1-903654-60-2
---
On the Back Cover:



The Doctor and Charley travel to the remote Cimmerian System to unravel the mystery of its sun. But darkness has already embraced the scientific base on Cimmeria IV in more ways than one.



In a fight for survival, The Doctor must use all his wits against a deadly artificial life-form and an ancient race whose return to the Cimmerian System threatens suffering and death on an apocalyptic scale.
---
On the Inside Cover:



MY TWO MAIN AIMS IN writing Embrace the Darkness were to create a scary story and a story that could only work on audio. As it turned out, those two aims fed well off each other. If it's totally pitch black, the main sense the characters rely on is hearing. As listeners of an audio play, that's all we have; so immediately the listeners' experience gets that much closer to the characters'. There is, hopefully, more a sense of sharing an experience rather than just hearing it.



As for the scary side of things, the darkness and the audio medium both allow for a level of gruesome content which would perhaps not sit so well in the Doctor Who genre visually. Unpleasant things that make us squirm can happen without a blatant visual representation of them turning the proceedings into 'shlock-horror'. Here, audio allowed me to deal with terrors of the mind rather than revulsion at the visceral. Well, that's the theory anyway...



In practice, the story was recorded during one of the worst weeks of my life; featuring a costly road traffic accident, terrifying personal relationship traumas and the mother of all colds. Maybe some of that darkness is in there too.



This is the first story I've written and directed for Big Finish for which I haven't handled the post-production editing and music. Unfortunately, Dalek Empire (or my 'concept album' as it has been humorously called by writer Paul Ebbs) crowded out my schedule. luckily for me, this log-jam coincided with my old friend Jim Mortirmore expressing an interest in returning to audio. Jim and I worked together for many years on the Audio Visuals plays, so it was great to see him back, bristling with new audio ideas. If he were writing this, he would no doubt tell yon that it was no picnic working with me. I have a strong sense of what I want to achieve in any work I do, and having someone else (for a change) essentially re-interpreting something that was grimly fined in my imagination was difficult for me... and, as a result, for him too. Put simply, Jim just hasn't done it the way I would have. What he has done, however, is very new, very different and very exciting. He never believes me when I tell him, but Jim has a touch of the genius about him. I hope you will be able to embrace the darkness he and I have created.
Nicholas Briggs,
January 2002
---
Full Cast List:
Part One
The Doctor
Paul McGann
Charley Pollard
India Fisher
Ferras
Lee Moone
Haliard
Mark McDonnell
Orllensa
Nicola Boyce
ROSM
Ian Brooker
Part Two
The Doctor
Paul McGann
Charley Pollard
India Fisher
Orllensa
Nicola Boyce
Ferras
Lee Moone
ROSM
Ian Brooker
Haliard
Mark McDonnell
Part Three
The Doctor
Paul McGann
Charley Pollard
India Fisher
ROSM
Ian Brooker
Haliard
Mark McDonnell
Ferras
Lee Moone
Orllensa
Nicola Boyce
Part Four
The Doctor
Paul McGann
Charley Pollard
India Fisher
Ferras
Lee Moone
Orllensa
Nicola Boyce
ROSM
Ian Brooker
Haliard
Mark McDonnell
The Production Team:
Writer
Nicholas Briggs
Director
Nicholas Briggs
Sound/Music
Jim Mortimore
Theme Music
David Arnold
Producers
Gary Russell and
Jason Haigh-Ellery
Executive Producer for the BBC
Jaqueline Rayner