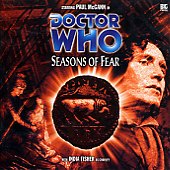 Seasons of Fear
(Paul Cornell and
Caroline Syrncox)

"Seasons of Fear", the third release for 2002 with the Eighth Doctor and Charley, bears a joint writers' credit. Paul Cornell should need no introduction to readers - or listeners - of Doctor Who over the past decade. Among his previous work is "The Shadow of the Scourge", the October 2000 audio that reunited his "New Adventures" team. Yet Cornell has not written this new story alone as he has been helped by his fiancée Caroline Syrncox.



Titled "Seasons of Fear" it has been directed by Gary Russell and stars Paul McGann as The Doctor and India Fisher as Charley Pollard. It was recorded on the 19th and 20th January 2001.



Also staring are: Stephen Perring, Robert Curbishley, Stephen Fewell, Lennox Greaves, Sue Wallace, Justine Mitchell and Don Warrington.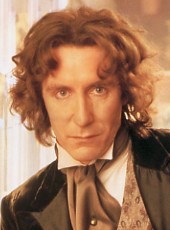 Eighth Doctor

"I have killed you, Doctor! And delivered this planet to my masters"



The earth has been laid waste and the doctor is dead! But how can Grayle have caused The Doctor's death and surely it's too late to save the world this time?



Singapore, 1931. The Doctor finally succeeds in delivering Charley to Singapore so that she can keep her long-promised New Year's Eve date with her friend Alex Grayle. However, while she enjoys the New Year festivities with her young man's company a stranger, who disturbs The Doctor's relaxation at the Hilton, makes some staggering claims.



Apparently Alex Grayle's Grandfather, Sebastian Grayle, is an old and bitter enemy of The Doctor and while he taunts him it is revealed that Grayle has finally succeeded in killing The Doctor. But who is the mysterious Sebastian Grayle? And can The Doctor prevent what Grayle claims to already be history: the Time Lord's death at his hands?



Is he really Sebastian Grayle, Alex's grandfather? Or is he an immortal who has come to gloat over The Doctor's death - a death he has already caused? How can this be, when The Doctor has never met him before? With time running out, The Doctor and Charley realise that they must embark on a journey through history to discover how Grayle received the 'gift' of immortality and just how he managed to destroy the Time Lord?



To find out, The Doctor and Charley return to Britain, and thence on a great journey to three periods in it's past. Each time the opportunity arises for the ageless Grayle to renew contact with his masters, they must seek to prevent it - or the world will be doomed. Not to mention The Doctor…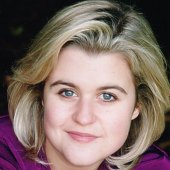 India Fisher

Scotland, 305. Grayle has had 750 years to see a position of power. The Doctor and Charley cross swords with some old friends of the Time Lord and manage to thwart Grayle's plans. But has The Doctor angered Grayle and so sealed his fate when they next meet?



London, 1055. The Doctor and Charley again meet Grayle and uncover a conspiracy to use deadly radioactive Plutonium so that he can seize the throne, the crown, and the so ultimately the whole world. With everyone, including The Doctor and Charley, in grave danger how can The Doctor prevent this huge disruption in history?



Buckinghamshire, 1806. Grayle's powers are nearing their apex. So is this really a good time for The Doctor to challenge him to a duel? But when Grayle's masters are finally revealed the battle for humanity is extended into the TARDIS and the time vortex itself. But is The Doctor missing something? Which life-extending masters does Grayle serve? And how can the timeline of Earth - indeed, the whole Universe - have been changed to the extent that Grayle claims?



The Doctor is about to meet some very old enemies. A technologically advanced race that he describes as interstellar locusts who use black holes to travel through space to go from planet to planet so as to absorb their energy. But why is Grayle so willing to serve his hideous masters, known as the Nimon, and what can The Doctor do to prevent these black bull headed monsters from destroying not just planet Earth but the whole Universe when even the TARDIS has been invaded?


Notes:
Featuring the Eighth Doctor and Charley Pollard.
Serial Number: 8H
Number of Episodes: 4
Cover Length: 110 minutes
Episode Lengths: 1 = 30'42", 2 = 27'21", 3 = 29'02", 4 = 32'23"
This story takes place after "Doctor Who: The Movie".
Cover Illustration: Clayton Hickman
Recorded: 19th and 20th January 2001
Recording Location: Christchurch Studios and The Moat
Released: March 2002
ISBN: 1-903654-59-9
---
On the Back Cover:



On New Year's Eve, 1930, The Doctor lets Charley keep her appointment at the Raffles Hotel in Singapore. But his unease at what he's done to time by saving her life soon turns into fear. Sebastian Grayle: immortal, obsessed, ruthless, has come to the city to meet the Time Lord. To The Doctor, he's a complete stranger, but to Grayle, The Doctor is an old enemy.



An enemy that, many years ago, he finally succeeded in killing. And this is his only chance to gloat.



The Doctor and Charley desperately search human history for the secret of Grayle's power and immortality. Their quest takes in four different time periods, the Hellfire Club, the court of Edward the Confessor and the time vortex itself. And when the monsters arrive, the stakes are raised from the life of one Time Lord to the existence of all humanity.
---
On the Inside Cover:



SEASONS OF FEAR IS AN attempt to resurrect an ancient Doctor Who tradition: it's a 'road' story like The Chase or The Keys of Marinus, where our heroes desperately dash from one location to another in order to prevent some terrible disaster, in this case the death of The Doctor himself. It's also an attempt at a very traditional Doctor Who story, an exciting adventure against the odds, with moments of humour against a very dark background. And it makes use of one of my favourite features of the 1996 TV movie: Paul McGann's formidable gift for narration. It wouldn't have been like this without the intervention of my co-author. When I was in the midst of a deadline crisis she took on a draft to sort out what was then a meandering plot, and ended up re-structuring the whole thing and providing a good half of the dialogue. Caroline's an academic, and her career aims are ecclesiastical rather than literary. The values she brought to this one-off experiment include seriousness of intent, historical detail and a turning away from the overt humour of my more recent Doctor Who work. So if it's not silly enough for you, blame her!
Paul Cornell,
December 2001
I WAS VERY SURPRISED WHEN I received a phone call from Paul asking me if I would write the second draft of Seasons of Fear, especially as I've never done anything like a Doctor Who audio before. A surprise that turned to nerves when I realised who I would be writing for! Nonetheless ix was vastly exciting, working on a script and then hearing Paul McGann speaking the words I'd written. Paul Cornell, of course, was the guy with the ideas and the good dialogue, but I hope my contribution of logic and a little more structure helped. So thank you to everyone involved for giving me the chance to do something like this, and here's hoping that you all like the end result!
Caroline Symcox,
December 2001
---
Full Cast List:
Part One
The Doctor
Paul McGann
Charley Pollard
India Fisher
Grayle
Stephen Perring
Marcus
Robert Curbishley
Lucilius
Stephen Fewell
Part Two
The Doctor
Paul McGann
Charley Pollard
India Fisher
Edward
Lennox Greaves
Edith
Sue Wallace
Grayle
Stephen Perring
Part Three
The Doctor
Paul McGann
Charley Pollard
India Fisher
Grayle
Stephen Perring
Lucy Martin
Justine Mitchell
Richard Martin
Stephen Fewell
Grayle's Master's Voices
Robert Curbishley
Part Four
The Doctor
Paul McGann
Charley Pollard
India Fisher
Lucy Martin
Justine Mitchell
Grayle
Stephen Perring
Grayle's Master's Voices
Robert Curbishley
Richard Martin
Stephen Fewell
The Auditor
Don Warrington
The Production Team:
Writers
Paul Cornell and
Caroline Symcox
Director
Gary Russell
Sound/Music
Gareth Jenkins and
Jane Elphinstone
Theme Music
David Arnold
Producers
Gary Russell and
Jason Haigh-Ellery
Executive Producer for the BBC
Jaqueline Rayner