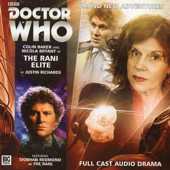 The Rani Elite
(Justin Richards)

The Rani, the Time Lord villain created by Pip and Jane Baker in the 1980s, has her first encounter with The Doctor on audio in "The Rani Elite", a brand new full-cast adventure released in December 2014. The Rani, who was previously played in the television series by the late Kate O'Mara, is reunited with the Sixth Doctor and Peri in a story which is written by Justin Richards and set in a galactic university.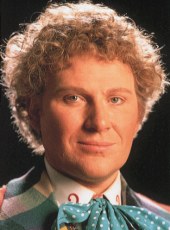 Sixth Doctor

'The Rani's return was very much prompted by Kate O'Mara', producer David Richardson has revealed. 'Justin wrote "The Rani Elite" for us, and we were just a few weeks away from recording when the terrible news reached us that Kate had passed away. At first, we were not sure what to do - until Kate's agent got in touch again, and said that it had been Kate's wish that we proceed with a new incarnation of the Rani'.



In this audio story The Rani is played by Siobhan Redmond, whose many leading television credits include Between the Lines, The High Life, The Smoking Room, and Taggart.



'We'd worked with Siobhan a few months ago', David Richardson has revealed, 'and we fell in love with her. She's an amazing actress. She's the perfect choice for this new version of The Rani'.



This story has been directed by Ken Bentley.



Also starring are: Andrew Bone, Becky Wright, Mike Noble and Charlie Morton.



---
Big Finish Magazine - Vortex: Issue 70 (December 2014)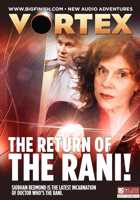 Vortex: Issue 70

Issue 70 of 'Vortex - The Big Finish Magazine' was also sent out to subscribers with this release.



In this issue...
1. Sneak Previews & Whispers – Doctor Who: Short Trips

2. Editorial - Kenny

3. Article - Doctor Who: The Rani Elite - Reign of The Rani

4. Article - The Judgement of Sherlock Holmes - Holmes Comforts

5. Article - Doctor Who: The Highest Science - Highest Regard

6. Article - Survivors - Survivor Instinct

7. Article - Listen Again - Relative Dimensions

8. Vortex Mail

9. Coming Up... Release Schedule – December 2014 - September 2015



| | |
| --- | --- |
| Published By: | Big Finish Productions Ltd |
| Managing Editor: | Jason Haigh-Ellery |
| Editor: | Kenny Smith |
| Executive Producer: | Nicholas Briggs |
| Line Producer: | David Richardson |
| Design: | Mark Plastow |
| Published: | December 2014 |
| Page Count: | 24 |
---
Notes:
Featuring the Sixth Doctor and Peri.
Number of Episodes: 4
Cover Length: 120 minutes
Episode Lengths: 1 = 27'13", 2 = 24'00", 3 = 23'23", 4 = 33'00"
Total Length: 107'36"
Also features 26 minutes of trailers, music and special behind-the-scenes interviews with the cast and producers.
Cover Illustration: Anthony Lamb
Recorded: TBA
Recording Location: Moat Studios
Released: December 2014
ISBN: 978-1-78178-335-1
---
On the Back Cover:

The TARDIS arrives in the CAGE - not a trap, but the College of Advanced Galactic Education, one of the most prestigious academic institutions in colonised space.



Not a trap. Or is it?



The Doctor's here to receive an honorary degree in Moral Philosophy. But there's something rotten at the heart of the Medical Facility. Someone is operating on the students. Someone without a conscience. Someone with access to a Sidelian Brain Scanner - a technology that hasn't been invented yet.



That someone is the ruthless Time Lord scientist known as the Rani - in her new incarnation. But will the Doctor and Peri recognise the Rani's hand before her trap is sprung?


---
On the Inside Cover:


Producer's Notes



It all began with an email from Kate O'Mara's agent, asking if we'd be interested in doing a story featuring the Rani. I passed it to Alan and Nick, and the result was a resounding 'Yes -please chat to Pip and Jane Baker about permissions'. I did. They gave an enthusiastic yes. And it all got underway.



We were just weeks away from recording, having already started work on this trilogy, when it became clear that Kate might not be well enough for the proposed dates. A few days later, the very sad news came through that she had passed away. Such a terrible loss to the industry and her friends - and what amazing memories she Leaves us all with, when one looks back over her brilliant career.



For a short time, we wondered how to proceed. Until a very kind email came through from Kate's agent, saying how much she had loved the character, and had hoped we would proceed with a different actor as a new incarnation of the Rani.



Siobhan Redmond was my suggestion, and one that was embraced by Nick, Alan and Ken. Siobhan has starred in lots of things I love, beautifully portraying roles that stay in the memory. I've seen her play characters who are not particularly likeable in themselves, and make them utterly captivating - surely a great trait for anyone playing the Rani. She had appeared just a few months earlier in Revenge of the Swarm, and was lovely and charming and just got what we do at Big Finish. So we offered her the job, and she is of course brilliant, giving her own take on the Rani just as all the actors who have played the Doctor or the Master have.



I hope she returns for more.

DAVID RICHARDSON


Writer's Notes



My starting point for The Rani Elite was brains. She might be a chemist by qualification, but both the Rani's previous encounters with the Doctor have seen her working, one way or another, on brains. I say 'previous', but of course when this story takes place, the events of Time and the Rani are yet to occur for the Doctor. But with a new incarnation of the Rani, we know they've already happened for her.



The script - originally titled Gifted and Talented - was written assuming that Kate O'Mara would once again play the part. Sadly, of course, that was not to be. But with her blessing and the Doctor Who magic of regeneration the story went ahead. Rewrites are always difficult, and doubly so given the circumstances. Script Editor Alan Barnes and I spent some time discussing what we would need to change, but in fact the final adventure remained very close to what I had already written.



There was some scope for playing with the fact the Rani knows what will happen to the Sixth Doctor - that she will ultimately defeat him whatever happens here. There was also the chance to simplify a few things. For example, in the earlier drafts, the Rani is once more in disguise. But with a new appearance, this became redundant which makes for a more straightforward plot - both mine and the Rani's.



The biggest question, however, as I set about making the changes, was who could possibly take the place of Kate O'Mara? In Siobhan Redmond Big Finish have found a worthy successor. Like a new Doctor, the character remains largely the same in terms of her motivation and outlook, her morals - or lack of them - and objectives. But at the same time, Siobhan brings her own unique talents and interpretation to the role. Accompanied by the equally rich talents of Colin Baker and Nicola Bryant, the result, I'm sure you will agree, is stunning.


JUSTIN RICHARDS
---
Full Cast List:
| | |
| --- | --- |
| The Doctor | Colin Baker |
| Peri | Nicola Bryant |
| The Rani | Siobhan Redmond |
| Vice Chancellor | Andrew Bone |
| Lizzo | Becky Wright |
| Miklev | Mike Noble |
| Reev | Charlie Morton |
| | |
The Production Team:
| | |
| --- | --- |
| Writer | Justin Richards |
| Director | Ken Bentley |
| Sound/Music | Andy Hardwick |
| Theme Music | Martin Montague |
| Script Editor | Alan Barnes |
| Producer | David Richardson |
| Executive Producers | Nicholas Briggs and Jason Haigh-Ellery |