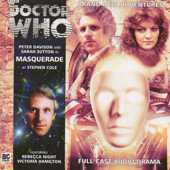 Masquerade
(Stephen Cole)

June 2014 sees "Masquerade", by prolific writer Stephen Cole, and stars Peter Davison, as the Fifth Doctor, and Sarah Sutton as his travelling companion Nyssa.



This story concludes a trilogy which started in "Moonflesh", then sent The Doctor and Nyssa on journeys to Earth of the 1920s in a deadly "Tomb Ship" in space before finally ending up in eighteenth century France where the TARDIS travellers become engaged in very dangerous liaisons at the country chateau of the famous Marquise de Rimdelle, where dead men whisper through the cellar walls and a steam-powered man runs amok in the gardens.



Directed by Ken Bentley this story was recorded on the 8th and 9th May 2013.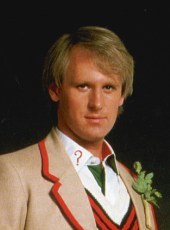 Fifth Doctor

Also taking part in this story are: Rebecca Night, Victoria Hamilton, David Chittenden, Andrew Dickens, Sean Brosnan and Francesca Hunt.



Writer Stephen Cole has revelled that during the development of the 2010 audio "The Whispering Forest", script editor Alan Barnes made the suggestion of doing a Dangerous Liaisons-type story.



The result four years later is "Masquerade", which takes the Fifth Doctor and Nyssa to eighteenth-century France - but Dangerous Liaisons is just its starting point. As revelled by Stephen Cole 'In true Doctor Who style you very swiftly subvert that, or add in elements that are very different, like the Steamroller Man. The Dangerous Liaisons thing gives you an image, and then you set about fairly steadily demolishing that impression and replacing it with something else...'.



The Steamroller Man, Stephen Cole has explained, is 'sort of a cross between Ivor the Engine and Sparky the Magic Piano, poured into a lunatic asylum and scraped off the walls. It's the mystery of what this force is that's bearing in on them. I think there's always something nicely sinister about a creature we don't understand speaking in childish verse. It's a very thin line between the innocent and the macabre, I think - you can twist things very quickly to interesting effect. If you're going to borrow from something quite complex like Dangerous Liaisons, and you're going to put something against it, do a childlike force! '.



'As well as the Steamroller Man, there's a man in the background, locked away, screaming out. So it's like you've got the madman in the attic, a deranged cyborg tearing around the place, a courtly world, and The Doctor trying to make sense of everything while the danger mounts all around him. It can be interesting taking some quite wild elements and putting them in, whilst still keeping it a fairly traditional Doctor Who story, true to its era'.



---
Big Finish Magazine - Vortex: Issue 64 (June 2014)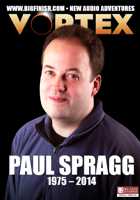 Vortex: Issue 64

Issue 64 of 'Vortex - The Big Finish Magazine' was also sent out to subscribers with this release.



In this issue...
1. Just Giving – Charity Fundraiser in Memory of Paul Spragg

2. Editorial - David Richardson

3. Article - A Death in the Family - Our Tribute to the Incomparable Paul Spragg

4. Article - Benny's Back (& It's About a Timelord) - The New Adventures of Bernice Summerfield

5. Article - Listen Again... Professor Bernice Summerfield and the Criminal Code

6. Vortex Mail

7. Forthcoming Releases - June 2014 - March 2015



| | |
| --- | --- |
| Published By: | Big Finish Productions Ltd |
| Managing Editor: | Jason Haigh-Ellery |
| Editor: | David Richardson |
| Executive Producer: | Nicholas Briggs |
| Production Assistant: | Ian Atkins |
| Design: | Mark Plastow |
| Published: | June 2014 |
| Page Count: | 24 |
Notes:
Featuring the Fifth Doctor and Nyssa.
Number of Episodes: 4
Cover Length: 120 minutes
Episode Lengths: 1 = 26'33", 2 = 27'12", 3 = 24'00", 4 = 33'17"
Total Length: 111'02"
Also features 30 minutes of trailers, music and special behind-the-scenes interviews with the cast and producers.
Cover Illustration: Damien May
Recorded: 8th and 9th May 2013
Recording Location: Moat Studios
Released: June 2014
ISBN: 978-1-78178-313-9
---
On the Back Cover:

France, the year 1770: by special invitation, the famous 'Doctor', friend of Voltaire, arrives at the lonely estate of the lovely Marquise de Rimdelle - once a hostess to the highest of high society, now isolated by the strange, pernicious mist that lingers round the countryside.



But there's more in that fog than mere vapour, confesses the Marquise's strange niece to the Doctor's ward, Nyssa. She senses some uncanny machine circling the fringes of the estate, in the space between the shadows. Watching. Always watching. She's given it a name: 'The Steamroller Man'.



Meanwhile, the man in the cellar talks to the Doctor; a dead man, trapped behind the cellar walls. The Steamroller Man is coming, he says; coming to smash the place down. It seems the Doctor has been drawn into a very dangerous liaison…

---
On the Inside Cover:

Director's Notes

Actors are amazing. It's a privilege to watch them work- particularly when they're playing an unusual role. My job is to help - it's important they feel supported - but ultimately it's their responsibility to bring to life whatever the writer has invented. And Stephen Cole has invented some very unusual characters in Masquerade.



The dual roles might appear straightforward compared to many roles in the world of Doctor Who, but appearances can be deceptive. To play heightened characters that demand a particular style and voice (such as good, crisp RP) isn't easy. To contrast this with the same character in the 'real world' is even more demanding. I take my hat off to the cast for effortlessly and successfully shifting between the two.



But it's Andrew Dickens and Sean Brosnan that made me appreciate once again just how incredibly talented actors are. The doubling up would've been enough of a challenge, but we also needed them to create two very bold and unusual 'monsters'. That they made the process feel so effortless and enjoyable illustrates just how skilled actors are, and it's because I can trust an actor to rise to such a challenge that I work with many on a regular basis. Thanks chaps. Sterling work.
KEN BENTLEY



Writer's Notes



'How about a Dangerous Liaisons-type story?' suggested script editor Alan Barnes. Not for Masquerade, but for another Fifth Doctor play I wrote, The Whispering Forest. I couldn't make it work with the full complement of TARDIS crew involved, and that annoyed me. But the idea stayed simmering in a shadowy French staircase of the subconscious until it passed one teasing note too many to my imagination and boom! Our tryst was revealed.



I love writing for the Fifth Doctor. The bursts of boyish action, the feeling of events spiralling out of control, the assertion of good manners over frustrated emotions and the frequent unhappy endings... he's almost a net product of the murky, manipulative intrigues of court.



Then there's poor, troubled innocent Nyssa. A target for intrigue from pretty much her first story. So well-meaning and compassionate, so undeserving of the horrors that befall her and those she cares for. She's a wonderful character to write for, a lovely match for the Doctor because they care for each other so clearly.



As for the plot of Masquerade, it's not giving much away to say it's one of those 'things are not what they seem' dramas. I blame the Fifth Doctor again. Old man in a young man's body. Stories that start around caves or sailing ships or the seaside end up in space.



Stories that start off in space take the TARDIS to Earth. A lone hero, trying to straddle so many violent sub-plots, breathless panic rising.



The Davison era was sometimes overlit, but often the darkest of all.

STEPHEN COLE
---
Full Cast List:
| | |
| --- | --- |
| The Doctor | Peter Davison |
| Nyssa | Sarah Sutton |
| Helene | Rebecca Night |
| Marquise De Rimdell | Victoria Hamilton |
| Vicomte de Valdac | David Chittenden |
| Steamroller Man/Jean/Maschera | Andrew Dickens |
| Dead Man/Maschera | Sean Brosnan |
| Hannah Bartholemew | Francesca Hunt |
| | |
The Production Team:
| | |
| --- | --- |
| Writers | Stephen Cole |
| Director | Ken Bentley |
| Sound/Music | Simon Robinson |
| Theme Music | David Darlington |
| Script Editor | Alan Barnes |
| Producer | David Richardson |
| Executive Producers | Nicholas Briggs and Jason Haigh-Ellery |