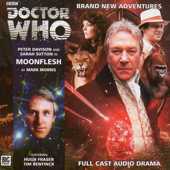 Moonflesh
(Mark Morris)

Peter Davison returned as the Fifth Doctor in April 2014, accompanied by his travelling companion Nyssa (played by Sarah Sutton) for a trilogy of stories that will take them from Earth in the past to outer space. This is their first trilogy of audio adventures as a duo since 2009.



This trilogy begins with "Moonflesh" which has been written by Mark Morris and is directed by Ken Bentley. This story was recorded on the 22nd and 23rd November 2012.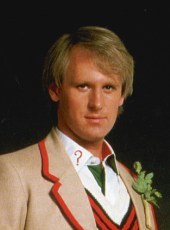 Fifth Doctor

This story stars: Tim Bentinck, Rosanna Miles John Banks, Francesca Hunt, Hugh Fraser and Geoffrey Breton.



The TARDIS lands in 1911, in the private, tiger-infested estate of a globe-trotting big game hunter, who's brought together a small group of individuals for a weekend's shooting party. But one of them is not all they seem...



Writer Mark Morris has revealed that he sent Script Editor Alan Barnes a brief proposal for a story set in mid-1800s America that would feature an alien invasion viewed through the prism of the legends and superstitions of a Native American tribe. 'Like a lot of ideas it was put on the back burner, but then in October 2012 Alan contacted me and asked me whether I'd be prepared to develop the idea into a story. It was quickly decided that it would be too difficult, if not impossible, to find an entire cast of Native American actors at short notice, so it was decided to shift the action to the UK and use just one Native American character'.




'I then had to work out why a Native American would be in the UK around this time - though the action was later moved forward to the early twentieth century for practical reasons - and hit upon the idea of an explorer/big game hunter, who might have spent some time living with Silver Crow's (our Native American character's) tribe and was now returning the favour by allowing Silver Crow to accompany him back to England. The storyline, setting, and other characters were then developed... You're just looking to create a disparate group of characters that will bounce off each other, form various alliances and conflicts, and also will be distinctive enough for you to tell them apart without any visual reference. To that extent they are perhaps a little more larger than life than real people, but what I was looking at were the various social and political concerns at the time - the rise of industrialisation, the evolution of women's rights, the waning of the Empire - and trying to encapsulate all those elements within the characters themselves'.



The choice of a big game hunter's private estate as the setting is however, new and unique for Doctor Who. In this story we have heavily wooded grounds crawling with wild animals. As revealed by Mark Morris, 'I wanted to include because they're notoriously hard to do on the telly and yet are a very identifiable threat. There have been one or two big game hunter types in Doctor Who over the years - in fact, by sheer coincidence, around the time I was either writing "Moonflesh" or waiting for approval on the story from the BBC, one cropped up in "Dinosaurs on a Spaceship" - but you don't often see them actually hunting any big game. The sense of being in a house whose surrounding grounds are teeming with dangerous wildlife also gave the story a kind of classic "base under siege" feel - albeit hopefully one with a bit of a twist...'.


---
Big Finish Magazine - Vortex: Issue 62 (April 2014)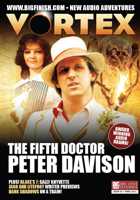 Vortex: Issue 62

Issue 62 of 'Vortex - The Big Finish Magazine' was also sent out to subscribers with this release.



In this issue...
1. Sneak Previews and Whispers –Doctor Who: The Highest Science

2. Editorial - Paul Spragg

3. Article - The Fifth Doctor Reboot - Doctor Who: Peter Davison

4. Article - Seven's Seminal Scripters - Jago and Litefoot

5. Article - Sally Forth - Blake's 7: Sally Knyvette

6. Article - Transport of De-Fright - Dark Shadows

7. Article - Listen Again... Doctor Who: Circular Time

8. Vortex Mail

9. Forthcoming Releases - April 2014 - January 2015



| | |
| --- | --- |
| Published By: | Big Finish Productions Ltd |
| Managing Editor: | Jason Haigh-Ellery |
| Editor: | Paul Spragg |
| Executive Producer: | Nicholas Briggs |
| Line Producer: | David Richardson |
| Design: | Mark Plastow |
| Published: | April 2014 |
| Page Count: | 24 |
Notes:
Featuring the Fifth Doctor and Nyssa.
Number of Episodes: 4
Cover Length: 120 minutes
Episode Lengths: 1 = 23'08", 2 = 23'53", 3 = 28'36", 4 = 27'09"
Total Length: 102'46"
Also features 24 minutes of trailers, music and special behind-the-scenes interviews with the cast and producers.
Cover Illustration: Damien May
Recorded: 22nd and 23rd November 2012
Recording Location: Moat Studios
Released: April 2014
ISBN: 978-1-78178-311-5
---
On the Back Cover:

One wouldn't normally expect to find elephants, gorillas and rhinoceroses roaming free in Suffolk in the year 1911. One wouldn't normally expect to find an extra-dimensional police box at the same time/space location either. Two aliens, named The Doctor and Nyssa, exit said box, only to find themselves pursued by a hungry lioness – for they've landed in the private hunting grounds of the famous explorer Nathaniel Whitlock, who's brought together a motley group of friends and acquaintances for a weekend's shooting.



But one of Whitlock's guests isn't all they seem. One of them wants the secrets of the Moonflesh, the mystic mineral looked after by Whitlock's retainer, a Native American known as Silver Crow. Because the Moonflesh is reputed to have the power to call down spirits from another realm…



…and soon, the hunters will become the hunted.

---
On the Inside Cover:

Director's Notes

For me, one of the most satisfying things about Moonflesh is the cast of delightfully larger-than-life characters. In the world of Doctor Who we come across some pretty weird and wacky ones, but not since The Magic Mousetrap can I remember the humans being quite so colourful as this.



Bold choices are good. From everyone involved in the production process. But bold choices made by writers are my favourite. The dramatic process starts with the writing. If the writing is bold, then the rest of us must follow suit. And bold choices are the acid test. They can easily be too much, or slip into caricature, and so it takes great skill and taste to tread the fine line - to be bold and yet to still be truthful.



So I'd like to take this opportunity to congratulate the cast of Moonflesh. Their choices in this play are a cracking example of ensemble drama. Of a company of actors coming together to create a story world so completely. The reason I enjoy directing as much as I do is that it affords me the opportunity to work with brave and skilled actors such as these. Bravo!
KEN BENTLEY




Writer's Notes



I must admit, this one was a bit of a rush job. I was approached to write Moonflesh in October 2012, the intention being that the story would be on the shelves within six months - a very quick turnaround considering the various stages involved in producing a Big Finish audio drama. The hasty commission was due to what was thought would be actor unavailability on another story scheduled for the slot I was commissioned to fill - but as it transpired, the actor in question suddenly became available again, and so Moonflesh, despite having been written, edited and recorded at breakneck speed, was eventually moved from spring 2013 to spring 2014.



Not that I'm complaining. It's always a pleasure and a privilege to write for Big Finish. I didn't even mind the tight schedule. I'm used to working under pressure, having been commissioned by various publishers over the past few years to produce 80,000-word novels in a matter of weeks.



As for the story, it stems from an amalgamation of different ideas. I wanted to write about Native American legends, I wanted to include wild animals (not an easy thing to do on TV) and, having rewatched the 1975 movie Trilogy of Terror, I wanted to write about aliens that were reminiscent of the terrifying Zuni doll in the film's final instalment. My original intention was to write a base-under-siege story about a group of big game hunters, who themselves become prey when they are stalked through a country house by a squad of ferocious and merciless alien hunters. However, as ever, the original idea mutated, evolved and expanded, and ended up becoming something altogether different and (hopefully) more interesting.

MARK MORRIS

---
Full Cast List:
| | |
| --- | --- |
| The Doctor | Peter Davison |
| Nyssa | Sarah Sutton |
| Nathaniel Whitlock | Tim Bentinck |
| Phoebe Whitlock | Rosanna Miles |
| Silver Crow | John Banks |
| Hannah Bartholemew | Francesca Hunt |
| Edwin Tremayne | Hugh Fraser |
| Hector Tremayne | Geoffrey Breton |
| | |
The Production Team:
| | |
| --- | --- |
| Writer | Mark Morris |
| Director | Ken Bentley |
| Sound/Music | Andy Hardwick |
| Theme Music | David Darlington |
| Script Editor | Alan Barnes |
| Producer | David Richardson |
| Executive Producers | Nicholas Briggs and Jason Haigh-Ellery |