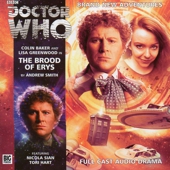 The Brood of Erys
(Andrew Smith)

The second Sixth Doctor and Flip Jackson story for 2014, that was released in February 2014, is called "The Brood of Erys" and stars Colin Baker as the Sixth Doctor accompanied by Lisa Greenwood as Flip Jackson.



The abduction of Flip leads The Doctor to the planet Asphya and its mysterious moon Erys...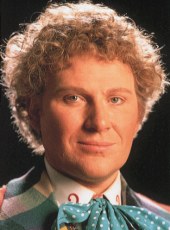 Sixth Doctor

However, "The Brood of Erys" begins with the TARDIS being invaded by a horde of imp-like creatures known as the Drachee...



Written by Andrew Smith - the writer of the 1980 Fourth Doctor story "Full Circle" which introduced Adric to the show - and directed by Nicholas Briggs this story was recorded on the 18th and 19th June 2013.



Nicola Sian, who played Clara's mum in "The Rings of Akhaten", guest stars as amnesiac space traveller Sarra Vanser. Also starring are: Tori Hart, Chris Overton, Brian Shelley and Glynn Sweet.



Andrew Smith has been an established Doctor Who scriptwriter for over 30 years - he wrote the 1980 television story "Full Circle", and in more recent years has been behind a string of acclaimed audio adventures - but "The Brood of Erys" marks his debut in Big Finish Production's main Doctor Who range.



'Alan Barnes got in touch and said he wanted a story not set on Earth, with the Sixth Doctor and Flip, and that was it', Andrew Smith has revealed. 'I wrote about four or five short ideas, a couple of paragraphs, and Alan came back and said "I want that one and that one - can you mix them up?"'



'So there was a story about the impish Drachee invading the TARDIS. It's quite an old idea - I had this years ago - of childlike imps that turn up in the TARDIS and are just very curious, and they're scuttling around, pushing buttons, opening panels on the wall, being very endearing! And there was a separate idea about a crashed spaceship where the pilot had no memory. This offered a lot of story threads; there are emotional buttons to push there. It was a bit odd, because the impish one had a fairly light tone to it, whereas the memory loss one was a bit darker, and with both of them I had a clear idea where I wanted to take them. It starts out light and it gets dark!'.


---
Big Finish Magazine - Vortex: Issue 60 (February 2014)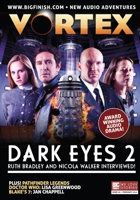 Vortex: Issue 60

Issue 60 of 'Vortex - The Big Finish Magazine' was also sent out to subscribers with this release.



In this issue...
1. Sneak Previews and Whispers – Frankenstein

2. Editorial - Paul Spragg

3. Article - The Molly And Liv Show - Dark Eyes 2

4. Article - The Chappell We Love - Blake's 7: Jan Chappell

5. Article - On The Flip Side - Doctor Who: Lisa Greenwood

6. Article - Hey On Why - Doctor Who: Virginia Hey

7. Article - Casting The Runelords - Pathfinder Legends

8. Article - Listen Again... The Memory Box

9. Forthcoming Releases - February - November 2014

10. Vortex Mail



| | |
| --- | --- |
| Published By: | Big Finish Productions Ltd |
| Managing Editor: | Jason Haigh-Ellery |
| Editor: | Paul Spragg |
| Executive Producer: | Nicholas Briggs |
| Line Producer: | David Richardson |
| Design: | Mark Plastow |
| Published: | February 2014 |
| Page Count: | 24 |
Notes:
Featuring the Sixth Doctor and Flip Jackson.
Number of Episodes: 4
Cover Length: 120 minutes
Episode Lengths: 1 = 22'59", 2 = 28'36", 3 = 27'54", 4 = 33'53"
Total Length: 112'52"
Also features 16 minutes of trailers, music and special behind-the-scenes interviews with the cast and producers.

Cover Illustration: Damien May
Recorded: 18th and 19th June 2013
Recording Location: Moat Studios
Released: February 2014
ISBN: 978-1-78178-299-6
---
On the Back Cover:

Space travellers are warned to keep away from the area of the planet Asphya and its unremarkable moon Erys. Not the best place to materialise the TARDIS, then – as the Doctor discovers when his ship is raided by the imp-like Drachee, and his companion Flip is carried away…



But the TARDIS isn't the only stricken vessel in the region. Aboard a nearby space yacht, the Doctor encounters a woman who holds in her head the secret of Erys – a secret suppressed by amnesia, or worse.



Flip, too, is about to learn Erys' secret. But once you know Erys' secret, you can never escape.

---
On the Inside Cover:


Writer's Notes



The Brood of Erys is a mix of old and new ideas. The Drachee, by another name, gambolled and frolicked forth from my imagination in the early 1980s. Sarra Vanser, the mysterious lady with no memories, is a creation I devised after being asked by script editor Alan Barnes to come up with an adventure for Sixie and Flip set on an alien world.



I sent Alan five ideas to choose from, and he foxed me by picking two of them: one where the TARDIS was overrun by the Drachee and another where the Doctor and Flip discover a spacecraft wreck where the only survivor is a woman with no memories. The two stories as conceived were different in tone, but as soon as I started melding them I became excited by the dramatic possibilities. Clever Alan.



As ever, it was a privilege to be in the studio hearing the cast make the most of the words I'd given them. And in this case, it was an extra special treat to hear their interpretation of the sound of hordes of Drachee. Marvellous, and barking mad. Thanks all.
ANDREW SMITH




Director's Notes



Bizarrely, this story felt rather like a William Hartnell story to me. Something from a simpler, more innocent age, and I worried that it might not have the dramatic punch and narrative complexity required by Big Finish stories. I needn't have worried, because Andrew Smith's canny storytelling proved to be an inspiration to the cast. This script really seemed to catch people's imaginations. One of the aspects that always helps in a recording is if any parts need to be voiced by crowds. The strange noises emanating from the 'brood' of the title provided for much hilarity at times, but more importantly established a real, tangible mood for the drama. It sounded like the sound design had arrived in the studio. It was also a great pleasure to work with Brian Shelley. Brian and I were at drama school together, although he was in the year below me, so we never worked together. I remember overhearing him doing a vocal warm-up... it actually sounded like there were about fifteen people in the room with him. When I opened the door to have a look, and discovered that it was just Brian, doing loads of different voices, the image of that one actor being so vocally dexterous stuck with me. That said, I forgot all about Brian in terms of casting for several decades.



Then, one evening, when I was casting this production, I happened to watch a BBC docu-drama called The Last Days of Anne Boleyn, featuring Brian as Thomas Cromwell. I remembered that vocal warm-up I'd overheard, and bingo, I had a casting solution. Odd how chance and timing is so important in all things.



My other fond memory of this recording is having a lovely time in the pub with Andrew Smith, whose many entertaining tales of life as a high-ranking police officer (no classified material passed his lips, please note!) made me wonder why we've never got him to write a police detective script for us. But that's for another time...
NICHOLAS BRIGGS

---
Full Cast List:
| | |
| --- | --- |
| The Doctor | Colin Baker |
| Philippa 'Flip' Jackson | Lisa Greenwood |
| Sarra Vanser/Female Drachee | Nicola Sian |
| Lona/Jen/Mya | Tori Hart |
| Terrill/Beacon Warning Message/Levek | Chris Overton |
| Trenval/Erys | Brian Shelley |
| Elgin Vanser | Glynn Sweet |
| | |
The Production Team:
| | |
| --- | --- |
| Writer | Andrew Smith |
| Director | Nicholas Briggs |
| Sound/Music | Steve Foxon |
| Theme Music | David Darlington |
| Script Editor | Alan Barnes |
| Producer | David Richardson |
| Executive Producers | Nicholas Briggs and Jason Haigh-Ellery |