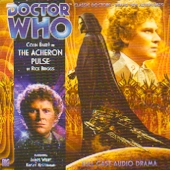 The Acheron Pulse
(Rick Briggs)

The second part of the 'Three Doctor' trilogy continues in "The Acheron Pulse" - the release for October 2012.



This story has been written by Rick Briggs and sees the Sixth Doctor stuck in the middle of an interplanetary war.



This story has been directed by Ken Bentley and was recorded on the 23rd and 24th April 2012.



Joining Colin Baker, as the Sixth Doctor, are: James Wilby, Kirsty Besterman, Joseph Kloska, Jane Slavin, Chris Porter, John Banks, Chook Sibtain and Carol Noakes.



'It's one of those stories where The Doctor doesn't just happen by', Rick Briggs has revealed. 'Consequences are at the heart of what it's all about'.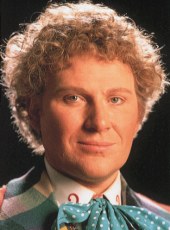 Sixth Doctor

"The Acheron Pulse" follows on closely from the preceding Fifth Doctor story "The Burning Prince". 'When I came on board', Rick Briggs has revealed, 'John Dorney had written the outline for "The Burning Prince", and that gave me an introduction to the backdrop of the empire all three stories are set in. I built my whole story from his closing scene! I took that as my starting point - it was almost like taking a baton and running with it. When I'd got my story pinned down, John had written a draft by that point, so by the time I wrote my script I had a really good sense of the linking elements through the trilogy'.


What the main linking element is, aside from the shared setting, isn't revealed until "The Acheron Pulse" unfolds, and the arc doesn't fully conclude until the arrival of the Seventh Doctor in November 2012's "The Shadow Heart".


Rick Briggs has revealed that Script Editor Alan Barnes 'had this idea of a huge, star-spanning trilogy and he talked to me about that concept and offered me a chance to pitch for the middle story. It was a huge idea that really appealed to me - I grew up reading all that epic science-fiction with gorgeous, garish covers, and really wanted to do something on that kind of scale. That's what I wanted to capture. But obviously we're talking about Doctor Who, so you want everything to be that much more ramshackle, I guess! Its foundation is those old novels, but pulled back onto a more intimate Doctor Who scale'.



Rick Briggs has also revealed that it is not so difficult to write a story that, as well as standing alone, has to fit into a bigger narrative and that having the beginning and ending handed to you in advance. 'That's the first thing you work out when you're on your own anyway - where you're going to start and where you're going to finish - so you've got as much freedom as normal. We were passing stuff backwards and forwards as we went along, all three of us, so it was a very supportive environment and a really good way to work'.



He has also revealed that 'because there's no companion you can build to big emotional payoffs because none of the characters are really safe. It is also about a galactic empire on the brink, it's got two races of monsters in it and the Acheron Pulse itself, which is a horrifyingly destructive weapon...'


---
Big Finish Magazine - Vortex: Issue 44 (October 2012)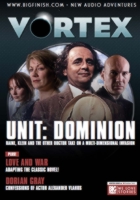 Vortex: Issue 44

Issue 44 of 'Vortex - The Big Finish Magazine' was also sent out to subscribers with this release.



In this issue...
1. Sneak Previews and Whispers – Iris Wildthyme Series 4

2. Editorial - Nick Briggs

3. Article - Forging a UNIT - UNIT: Dominion

4. Article - Pulse Pounding - Colin Baker

5. Article - All's Fair… - Love and War

6. Article - Gray Matters - Dorian Grey

7. Vortex Mail

8. Article - Listen Again: Omega

9. Forthcoming Releases - October 2012 – July 2013



| | |
| --- | --- |
| Published By: | Big Finish Productions Ltd |
| Managing Editor: | Jason Haigh-Ellery |
| Editors: | Nicholas Briggs and David Richardson |
| Assistant Editor: | Paul Spragg |
| Design: | Mark Plastow |
| Published: | October 2012 |
| Page Count: | 24 |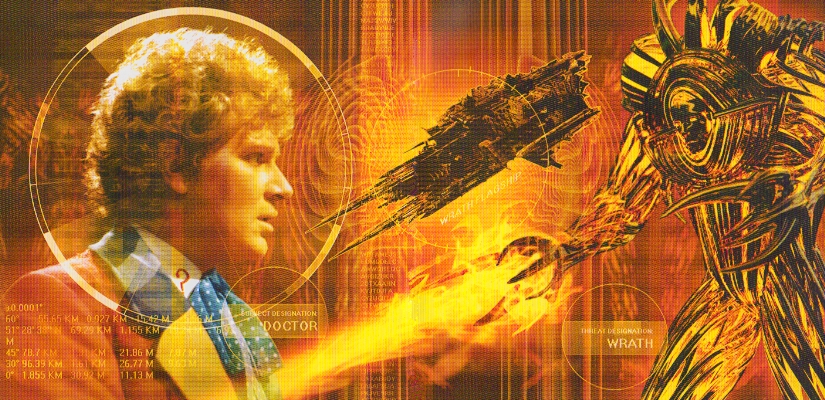 Notes:
Featuring the Sixth Doctor
Serial Number: 7CPRE-A/A-3
Number of Episodes: 4
Cover Length: 120 minutes
Episode Lengths: 1 = 33'30", 2 = 35'28", 3 = 32'57", 4 = 34'53"
Total Length: 136'48"
Also features 18 minutes of trailers, music and special behind-the-scenes interviews with the cast and producers
Cover Illustration: Alex Mallinson
Recorded: 23rd and 24th April 2012
Recording Location: Moat Studios
Released: October 2012
ISBN: 978-1-78178-020-6
---
On the Back Cover:

The planet Cawdor. Deep in the heart of the Drashani Empire.



The Doctor lands thirty years after the Succession of Blood brought Empress Cheni to the throne. For most of her reign there has been peace and prosperity. The Empire flourished. But five years ago, the War came. And nothing was ever the same again. Now the Drashani are at war with the mysterious alien race known as the Wrath, led by the Warlord Tenebris. As more and more planets fall to their advance events are rushing to a head.



What exactly does Tenebris want? What is the secret of the Wrath's weapon, the terrifying Acheron Pulse? As the Doctor races to save an Empire, he may not like the answers he finds.

---
On the Inside Cover:

Writer's Notes


I've always wanted to write a story that picks apart the human condition. A timeless narrative exploring the dichotomy of our ethical existence in an amoral reality. Of course I have. I mean really, who hasn't?



But that'll just have to wait. Because there's a more pressing need, lurking since my twelve-year-old self discovered Dune... Foundation... Lensman, Dumarest, Tales of Known Space. Rollicking space adventures of galactic empires in flux.



And so, one day Alan Barnes told me about an epic star-spanning trilogy he was planning. I read the sleek and shiny outline John Dorney had already written for The Burning Prince - setting the stage, introducing the Drashani Empire and its warring Houses. In my mind, it played like The Androids of Tara on the set of Aliens. I ate it up.



The Acheron Pulse was my first chance to write for Sixie. I'd always suspected his voice would come very naturally. Verbose, self-absorbed, sometimes aloof and judgemental - yet with a soft, creamy centre of warmth and consideration just below the surface.



And it's a rare privilege to tell a rollicking space adventure where, contrary to popular belief, love is not the solution to the problem. Sometimes, it turns out that love is the problem...

Rick Briggs
July 2012


Director's Notes



When I discussed with David Richardson linking the three stories musically, Toby Robinson was instantly our first choice. As sound designer on the second story he was perfectly placed to establish a score in the first and develop this into themes in the second. His music is always passionate and responsive to the action. It has an organic quality which I like, and so I was thrilled when he agreed to the challenge. The Acheron Pulse raises the game considerably after the claustrophobic rollercoaster of The Burning Prince. This is a story on a much grander scale. No small task, then, to link two very different tales.



In the later stages of prepping the trilogy, I was discussing with John Dorney my plans for linking the three stories. He brought to my attention a wonderful casting opportunity. When we worked with Kirsty Besterman on The Burning Prince, she was so perfect in the role and such a delight to work with that we knew instantly she'd be perfect to play her own cousin in The Acheron Pulse. You might say Kirsty became the DNA that binds the two stories together.


Ken Bentley
July 2012

---
Full Cast List:
| | |
| --- | --- |
| The Doctor | Colin Baker |
| Tenebris | James Wilby |
| Empress Cheni | Kirsty Besterman |
| Dukhin | Joseph Kloska |
| Teesha | Jane Slavin |
| Vincol | Chris Porter |
| Boritz | John Banks |
| Athrid | Chook Sibtain |
| Olerik/Nanny | Carol Noakes |
| | |
The Production Team:
| | |
| --- | --- |
| Writers | Rick Briggs |
| Director | Ken Bentley |
| Sound/Music | Toby Hrycek-Robinson |
| Theme Music | David Darlington |
| Script Editor | John Dorney |
| Producer | David Richardson |
| Executive Producers | Nicholas Briggs and Jason Haigh-Ellery |