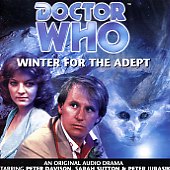 Winter for the Adept
(Andrew Cartmel)

July 2000's story is titled "Winter for the Adept" and is another Fifth Doctor story with Nyssa played by Sarah Sutton. Written by Andrew Cartmel and directed by Gary Russell it was recorded on the 18th to 20th March 2000. Guest star Sally Faulkner (who portrayed Isobel Watkins in the classic Patrick Troughton story "The Invasion") has also joined the cast playing the part of a school headmistress Miss Tremayne. Also starring are: Liz Sutherland, Hannah Dickinson, India Fisher (who will be returning to play the Eighth Doctor's 'new' companion early in 2001), Peter Jurasik, Christopher Webber, Andy Coleman and Nicky Goldie.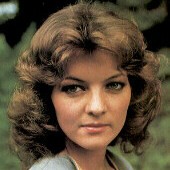 Nyssa

When a teleportation experiment goes badly wrong, Nyssa finds herself whisked away from the relative safety of the TARDIS and stranded on the freezing slopes of the Swiss Alps. She soon though finds herself rescued and given shelter in the nearby Tremayne school. But this snowbound shelter holds a terrible secret.



It is nearly Christmas in 1963 and a teenage girl plans to flee from this exclusive Swiss finishing school and elope with her mysterious beau. Unfortunately, those plans are interrupted by not only the arrival of Nyssa but what appears to be a very malevolent poltergeist with a penchant for pianos, ski-poles and the local chapel. It is not long though before The Doctor soon catches up with Nyssa and between them, and the other inhabitants of the school, they soon start to unravel the mystery. However, not everything is at it seems especially when the ghost of a long dead traveller, who got caught in an avalanche, is itself being haunted. This spirit is just merely part of a much darker and deeper deadly game involving rogue psychic talents of the schoolgirls.



But there is something else within the walls of the school. Creatures who are not of this Earth and who are determined that their invasion plans do not fail. Even if it means the death of The Doctor, his companion and all those stranded in the school...


---
Important Information
After the trailers in track 10 at the end of the second disc carry on listening because 9 minutes into this track you will find an outtake from the recording of this story.

If you can not wait then you can listen to it below.


Play Sample


Notes:
Featuring the Fifth Doctor and Nyssa.
Serial Number: 6C/B
Number of Episodes: 4
Cover Length: 100 minutes
Episode Lengths: 1 = 24'37", 2 = 18'15", 3 = 24'19", 4 = 26'52"
This story takes place between "Time-Flight" and "Arc of Infinity".
Cover Illustration: Clayton Hickman
Recorded: 18th to 20th March 2000
Recording Location: NU Groove Studios
Released: July 2000
---
On the Back Cover:



When a teleportation experiment goes badly wrong, Nyssa finds herself stranded on the freezing slopes of the Swiss Alps in 1963. But is it mere coincidence that she finds shelter in a snowbound school haunted by a malevolent poltergeist?



When The Doctor arrives, Nyssa and the other inhabitants of the school soon discover that the ghost is merely part of a darker, deeper and more deadly game involving rogue psi talents and something else... Something not of this Earth.
---
On the Inside Cover:



"Winter for the Adept" is a title I've wanted to use for as long as I can remember. The decision to do an audio adventure for Doctor Who gave me an opportunity to explore the mood the title conjured and begin dreaming up some suitable characters and situations.



On a more practical level, a one-line pitch to the producers ("St Trinians with witches") got the ball rolling, and soon we were all involved in a sinister finishing school in the Swiss Alps.



A couple of rewrites later - I won't even mention the abortive moonbase sequence - and suddenly a top flight cast and crew were gathered in a small studio in Fulham to make it all come to life.



On the first day of recording there was an eerie smell of incense along the entire Street leading to the studio. Honest, guy.
Andrew Cartmel,
April 2000
---
Full Cast List:
Part One
The Doctor
Peter Davison
Nyssa
Sarah Sutton
Alison Speers
Liz Sutherland
Miss Tremayne
Sally Faulkner
Mlle. Maupassant
Hannah Dickinson
Peril Bellamy
India Fisher
Lt. Peter Sandoz
Peter Jurasik
Part Two
The Doctor
Peter Davison
Nyssa
Sarah Sutton
Alison Speers
Liz Sutherland
Peril Bellamy
India Fisher
Lt. Peter Sandoz
Peter Jurasik
Mlle. Maupassant
Hannah Dickinson
Part Three
The Doctor
Peter Davison
Nyssa
Sarah Sutton
Alison Speers
Liz Sutherland
Lt. Peter Sandoz
Peter Jurasik
Miss Tremayne
Sally Faulkner
Mlle. Maupassant
Hannah Dickinson
Peril Bellamy
India Fisher
Part Four
The Doctor
Peter Davison
Nyssa
Sarah Sutton
Lt. Peter Sandoz
Peter Jurasik
Mlle. Maupassant
Hannah Dickinson
Peril Bellamy
India Fisher
Alison Speers
Liz Sutherland
Harding Wellman
Christopher Webber
Commodore
Andy Coleman
Empress
Nicky Goldie
The Production Team:
Writer
Andrew Cartmel
Director
Gary Russell
Sound/Music
Russell Stone
Theme Music
Mark Ayres
Producers
Gary Russell and
Jason Haigh-Ellery
Executive Producer for the BBC
Jaqueline Rayner