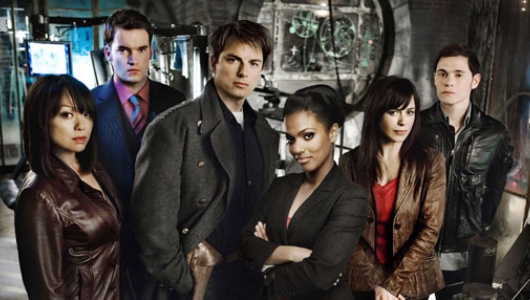 Members of Torchwood (Season 2)

Although the Torchwood Institute was created by Queen Victoria in a response to the 'threat' that she perceived was posed by The Doctor and other alien invaders ("Tooth and Claw"), the organisation has changed significantly over the years, aided predominately by their chief agent, Captain Jack Harkness.



Following the Tenth Doctor saving Queen Victoria from a werewolf, he was banished from the British Empire after she had knighted him as thanks for saving her as Victoria felt that his almost jocular way of dealing with the situation was as dangerous as the aliens he fought. Resolving that she would ensure that Britain was protected against future alien incursions, Queen Victoria established the Torchwood Institute - named for the house where the confrontation with the werewolf had taken place -, vowing that she would be prepared for future attacks against the Empire. One of the more interesting positions created at this time was the role of the Torchwood Assessor, an operative named Agnes Havishim who would remain in stasis until an alarm system brought her out at a time of great urgency, even possessing the authority to close Torchwood down if she felt the organisation had failed in its purpose. The Institute's greatest success in their first decades of existence was in their somewhat -forced recruitment of The Doctor's former companion, Captain Jack Harkness, trapped in the past and rendered immortal after his last trip with the Ninth Doctor ("Bad Wolf/The Parting of the Ways" and "Fragments"), Jack deciding to work with Torchwood despite his distaste for their automatic anti-alien measures - killing a blowfish-like alien just because it was an alien rather than because it could pose a realistic threat - as he was informed by a mysterious fortune-telling girl that he could do some good with the organisation in the century that would pass before he met The Doctor again.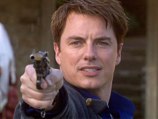 Captain Jack Harkness

It has so far been unspecified where Torchwood ever engaged in 'territorial disputes' with UNIT - the United Nations' Intelligence Task Force, a U.N. operation created to investigate alien activity in the late 1960s - over Torchwood's interest in The Doctor, since UNIT was not only established after then-Colonel Lethbridge-Stewart collaborated with the Second Doctor in defeating the powerful Great Intelligence in London, but went on to employ the Third Doctor and all subsequent Doctors as UNIT's scientific advisor after he was exiled to Earth by the Time Lord. The most likely answer to this question is that the Brigadier was able to pull some strings in the UN to force Torchwood to stay away from The Doctor while he was actively working with them, with Torchwood only able to 'legally' capture The Doctor in "Army of Ghosts" because he was acting independently.



Regardless of their affiliation or non-affiliation with UNIT, Torchwood retained control over Jack Harkness as a semi-independent operative for the rest of the century, although they occasionally allowed Jack some 'leave', such as when he spent over a year in New York when he fell in love with Italian immigrant Angelo Colosanto during a visit to the city while tracking a member of the Trickster's Brigade ("Immortal Sins"); he was even married to another Torchwood employee for a time, although she left him after the birth of their daughter Melissa - later renamed Alice - to give her a chance at a normal life. The agency's activities on a large scale over this time are unknown, but one particular action taken at this time was the establishment of the Torchwood Assessor, a woman named Agnes Havisham who would remain in stasis until particular moments of crisis to determine whether the Torchwood Institute was maintaining the effective standards set out by Queen Victoria and shut it down if she felt otherwise, Agnes and Jack forming a somewhat frosty relationship over time due to their disapproval of each other despite their recognition that they got the job done, collaborating to defeat foes such as zombies created by an alien virus or a Torchwood agent reanimated as a mechanical warrior ("Risk Assessment"). One of the agency's most questionable actions at this time was when they were contacted by a mysterious race known only as the 456 - the radio frequency they used to communicate with Earth - in 1965, who offered them a cure for a virus in exchange for twelve human children, Jack being the Torchwood agent responsible for making the deal ("Children of Earth").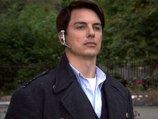 Fragments

Eventually, Jack 'inherited' control of Torchwood Three after the previous team leader killed his team before committing suicide at the turn of the millennium, shaken after an alien pendant showed him a vision of the future and he concluded that the human race wasn't ready to face what was coming, his last words being to declare Jack leader of Torchwood Three as a reward for his century of service. Although apparently still answerable to Torchwood One, Jack was now able to choose who he worked with rather than relying completely on them for orders, rescuing ex-UNIT scientist Toshiko Sato from prison after she was blackmailed into stealing plans to save her mother - Jack noting that the plans she'd stolen didn't actually work and yet she'd managed to complete the sonic disruptor they described - and recruiting Doctor Owen Harper from the Cardiff hospital after his fiancé was killed by an alien parasite in her brain ("Fragments").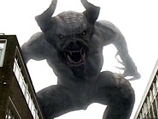 End of Days

Unfortunately for Jack, The Doctor's first experience with Torchwood was an encounter with Torchwood One as they carried out tests on a hole in reality that they had discovered above Canary Wharf, the same experiment causing what appeared to be ghosts to appear all over the world. Tracking the source of the ghosts to their base, The Doctor was immediately disgusted at their attempt to take the TARDIS for themselves, simultaneously noting their arrogance and stupidity at examining a hole in the universe rather than sealing it up. The Doctor's concerns were proven correct when the 'ghosts' were revealed to be the Cybermen from another reality that he had recently visited ("Rise of the Cybermen/The Age of Steel"), having accessed this world by tracking a void ship containing the Cult of Skaro, a group of four Daleks who dared to have imaginations and names to better devise strategies against their enemies, resulting in a prolonged battle that saw most of Torchwood One being killed or converted into Cybermen before The Doctor managed to trap both sides in the inter-universal void before closing the rift ("Army of Ghosts/Doomsday").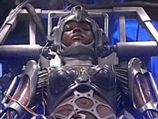 Cyberwoman

With Torchwood One destroyed after the Battle of Canary Wharf, Torchwood Four having vanished, and Torchwood Two apparently useless - the leader was described as a strange man called Archie -, Jack completed his goal to reconstruct Torchwood in The Doctor's honour, the organisation's remaining stronghold in Torchwood Three of Cardiff, created to monitor a rift in time and space centred around the city, focused on helping aliens and humans by securing potentially dangerous technology while allowing non-hostile aliens to go free, although it took the recruitment of former police officer Gwen Cooper to inspire the new team to take a more active role in protecting the people of Cardiff rather than just keeping alien technology out of their hands ("Everything Changes"). Despite some complications when it was discovered Suzie Costello, Jack's former second-in-command, had been committing murders as part of a plan to perfect control of a strange glove that could bring the dead back to life ("Everything Changes"), and the later revelation that Ianto Jones - one of the few survivors of Torchwood One - had been keeping his partly-Cyber-converted girlfriend Lisa in the Hub's basement while he tried to return her to normal ("Cyberwoman"), the new five-man team of Jack, Gwen, Owen, Tosh and Ianto generally managed to work well together. However, their team dynamic was increasingly threatened due to their disconnected nature as a group, their alienation from the rest of the world, and the complex nature of the threats they faced; one mission saw them dealing with a village of cannibals who attacked and ate people once a decade for no other reason than that they liked it ("Countrycide") while another ended with having to allow a race of 'fairies' to take a child that they had taken an interest in ("Small World"), even if they also had such victories as preventing a group of aliens infecting humans with their eggs by disguising the eggs as weight-loss pills ("Slow Decay").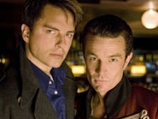 Kiss Kiss, Bang Bang

Although their poor team dynamic came to a head when the mysterious Bilius Manger provoked the rest of Torchwood Three into killing Jack so that they could open the Rift in an attempt to save Gwen's boyfriend Rhys after Bilius murdered him - only to unleash Bilius's master, the mysterious and powerful demon Abaddon, until Jack was able to stop Abaddon by essentially overfeeding him -, coupled with Jack subsequently leaving the team for a few months when the TARDIS materialised above the Hub ("End of Days", "Utopia" and "Kiss Kiss Bang Bang"), matters improved after Jack returned to the team. Although still reluctant to actually share his past in explicit detail with others, Jack was less inclined to shy away from questions like he had done before, acknowledging his origins from the future while reassuring his friends that he was content in his new time, going to great lengths to restore Owen Harper to life long enough to say goodbye after he was shot by a ruthless doctor ("Reset"), although his actions unintentionally left Owen in a state of living death ("A Day in the Death"). The foes they faced at this point were also generally more straightforward than the moral greys and complications they had fought during their previous year together, such as their successful defeat of a race of alien sleeper agents ("Sleeper"), an alien lifeform eating the residents of a block of flats ("SkyPoint") and aiding Bilius Manger in his defeat of Abaddon's nemesis in the form of sentient particles known as 'the Dark' that would have corrupted the team if released ("The Twilight Streets"), although they still experienced such failures as having to mercy-kill an alien space whale that was being butchered for meat ("Meat"). Despite the uplifting mood created by Gwen's subsequent wedding ("Something Borrowed"), the team was forever altered when Cardiff was attacked by Jack's now-insane brother Gray ("Fragments"), Gray killing Tosh and trapping Owen in a room where his dead body would be dissolved by a radiation leak before Jack managed to stop him ("Exit Wounds").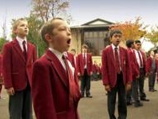 Children of Earth

Despite their best efforts to carry on after the loss of two such crucial team members - their victories at this time including successfully containing a wish-granting box that drained life energy as a power source ("Almost Perfect") and defeating a race of paradox-feeding aliens by creating a situation where they would feed on themselves ("The House That Jack Built"), as well as passing the final assessment of Agnes Havishim before she departed to be with her lover (Who had left Earth to contact an alien race a century ago, his relativistically-travelling ship returning him to Earth a century later while mere months elapsed for him) ("Risk Asssessment") -, Torchwood Three was virtually destroyed during the 456 crisis, when the 456 returned to Earth. During this return visit, the 456 demanded that they receive ten percent of Earth's children or they would destroy the planet, simultaneously revealing that they intended to use the children as drugs as they produced 'good' chemicals when forcibly bonded to the 456 ("Children of Earth"). Although the British government tried to conceal their role in the 456's original visit by killing the officers responsible for the first deal, Jack managed to survive even after they planted a bomb in his stomach - although the resulting explosion destroyed the Hub -, but his attempts to stand up to the 456 resulted in the deaths of both Ianto - when Jack's attempt to confront the 456 resulted in them poisoning the room where Jack and Ianto were - and Jack's grandson Steven - when Jack was forced to use Steven to transmit a signal to kill the 456 -, prompting Jack to leave Earth, unable to cope with his grief. Most of Torchwood was destroyed, but various items were nevertheless salvaged, such as billionaire Joshua Naismith discovering the 'Immortality Gate' and abducting the resurrected Master to try and force him to program it correctly, only for the Master to brief turn all human life on Earth into versions of himself before the Tenth Doctor stopped him and undid his actions ("The End of Time").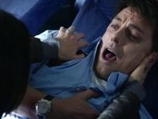 Miracle Day

Although Gwen and Rhys went into 'witness protection' with their newborn daughter following Jack's departure, living in a farmhouse away from the rest of the world, they were forced back into action when Jack returned to Earth after 'Miracle Day', a day when everyone on Earth lost the ability to die while retaining all other flaws; people remained alive even after fatal injuries such as broken necks or being crushed in car compactors, unable to heal at anything other than a normal human rate. With Jack's immortality apparently lost as a side-effect of the Blessing, he and Gwen teamed up with CIA agents Rex Matheson and Esther Drummond to investigate the cause of the Miracle, eventually tracing it back to his visit to New York in 1928, when Jack was captured by three powerful New York families, who killed him several times and took multiple samples of his blood after Angelo betrayed him out of fear of his immortality. Learning that the Three Families had gone underground to prepare for their upcoming coup, Jack, Gwen, Rex and Esther - aided by convicted murderer Oswald Danes, who had become the public face of the Families before he learned of their plans to betray him - were able to discover the source of the Miracle in the form of the Blessing, a rift running right through Earth linked to humanity's morphic field that had been altered when exposed to Jack's immortal blood. Refusing to allow the Families to retain control of life and death and thus control all of society, Jack and Rex returned Jack's now-mortal blood to both ends of the Blessing - Rex having been given a complete transfusion of Jack's blood after Esther took multiple samples from Jack - to 'provoke' the Blessing to reverse its response to Jack's immortal blood, restoring Jack's immortality and the human race's ability to die, although Esther was shot in the process while Oswald sacrificed himself to detonate the bombs to seal the Blessing away forever.



With death restored, Torchwood apparently disbanded again - Gwen moving on to full-time motherhood, Rex being prompted to CIA deputy director coordinating the effort to find the Three Families and cope with the restoration of death, and Jack returning to his nomadic lifestyle -, but Jack continued to access some of the organisation's old resources, using them to provide funding and technology to an oceanographic survey team that revealed that a Helix Intelligence - similar to The Mandragora Helix ("The Masque of Mandragora") - trapped within Earth was approaching a crisis point, the team's research allowing Jack to trace the disruption back to its source and repair the damage before the Helix Intelligence destroyed Earth. With the Three Families still active underground, Torchwood's future is unknown, although Rex's apparent immortality makes it clear that his history with Jack is not over yet.