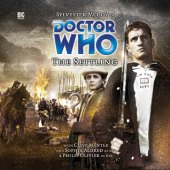 The Settling
(Simon Guerrier)

The 2 CD release for May 2006 was "The Settling" by Simon Guerrier - a Seventh Doctor story directed by Gary Russell and recorded on the 9th and 10th November 2005. This is Simon Guerrier's first Doctor Who audio release for Big Finsh Productions.



It stars Sylvester McCoy, as The Doctor, Sophie Aldred, as Ace, and Philip Olivier, as Hex. Joining them are: Roger Parrott, Hugh Lee, Clare Cathcart, Ian Brooker and, playing the part of Oliver Cromwell is former Casualty star, Clive Mantle.



Also contained in the three CD cardboard case is a 43 minute free promotional CD, presented by Gary Russell, which features excerpts from the following Big Finish Doctor Who ranges: Dalek Empire, UNIT, Sarah Jane Smith, Gallifrey, Doctor Who Unbound and Cyberman.



The TARDIS lands in the Irish town of Drogheda during its siege in 1649. The English general Cromwell, at the head of an army of over 10,000, is on his way and much feared by the townspeople.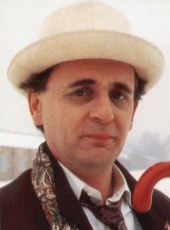 Seventh Doctor

As Hex recalls the town's fate, events swiftly turn bloody and the travellers become separated. All three of them learn first hand that war is about senseless, violent death and people fighting for their lives – that there can be no winners or losers, just people who die.



But was Cromwell simply the monster of folklore? What fateful involvement might someone with foreknowledge of the history have? While The Doctor has his hands full with an Irish woman, who is on the run and having a baby in the middle of the battlefield, Ace and Hex are about to find out what life was really like with Oliver's Army...



For once The Doctor starts to panic when he realises he must put his companions and the war ranging around him to one side and focus on delivering the baby. Luckily for him he manages to coerce an English doctor to help with the delivery of the baby. But how can something so wonderful be born amidst all the death?



For Ace and Hex The Doctor's instructions to them not to fight is very difficult for them to obey as they are confronted with the Irish being horrifically slaughtered. They are forced to disobey his orders and try and help stop the injustice – but in doing so they put themselves in grave danger.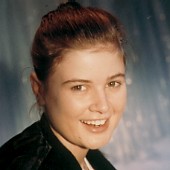 Ace

For Hex his previous profession as a nurse has imbued him with a sense of life preservation and so he confronts Cromwell and tries to convince him that what he is doing is wrong. Taking advantage of Cromwell's mood swings and the revelation that he isn't an out and out monster, Hex seizes upon the opportunity to try and influence him for what he believes to be the better, but in doing so he is accused at first of being a witch and then when he thinks that both The Doctor and Ace are dead he is willing to bring down the entire English army and so risks being hanged as a traitor…



Instead of being just observers and not become involved with historic events Hex finds himself doing the exact opposite and instead of influencing history for the better it appears he has actually caused the massacre that he worked so hard to prevent! But the hardest lesson for Hex to come to terms with is when he learns that his interference has sent women and children to their deaths instead of to safety.



As Ace and Hex reflect on recent events it becomes clear all three of them will never be the same again as they get caught up in this world of injustice and death and witness the full onslaught of the fighting and murder. Hearing people being brutally slaughtered really drives home the horror of the situation – and for The Doctor it is witnessing new life being born in so much destruction.



But for Hex it has affected the young man the most. After all the destruction he has witnessed he wonders if he did the right thing and what he could have done things better. He ponders that maybe it is time that he should leave the TARDIS for ever…



It is therefore up to Ace to convince him not to – but will she be able to prove to him that there are no real bad guys in this story, just ordinary people trapped in impossible situations and that he is not to blame?

Notes:
Featuring the Seventh Doctor, Ace and Hex.
Serial Number: 7WD
Number of Episodes: 4
Cover Length: 100 minutes
Episode Lengths: 1 = 22'57", 2 = 33'56", 3 = 23'39", 4 = 23'29"
Total Story Length: 104'01"
This story takes place after "Survival" and follows on from "Night Thoughts".
Cover Illustration: Lee Binding
Recorded: 9th and 10th November 2005
Recording Location: The Moat Studios
Released: May 2006
ISBN: 1-84435-171-8
---
On the Back Cover:



Note to Sir Arthur Aston, governor of the town of Drogheda, 10 September 1649.
"Sir, Having brought the army belonging to the Parliament of England before this place, to reduce it to obedience, to the end effusion of blood may be prevented, I thought fit to summon you to deliver the same into my hands to their use.
If this be refused, you will have no cause to blame me.
I expect your answer and rest your servant.
O. Cromwell."
---
Full Cast List:
| | |
| --- | --- |
| The Doctor | Sylvester McCoy |
| Ace | Sophie Aldred |
| Hex | Philip Olivier |
| Colonel Sinnott | Ian Brooker |
| Mary | Clare Cathcart |
| Jenkins | Simon Guerrier |
| Fitzgerald | Hugh Lee |
| Roberts | Stephen Mansfield |
| Oliver Cromwell | Clive Mantle |
| Dr Goddard | Roger Parrott |
| Chidley Coote | Alan Ruscoe |
| Turner | Steven Wickham |
The Production Team:
Writer
Simon Guerrier
Director
Gary Russell
Sound/Music
David Darlington
Theme Music
David Darlington
Producers
Gary Russell and
Jason Haigh-Ellery