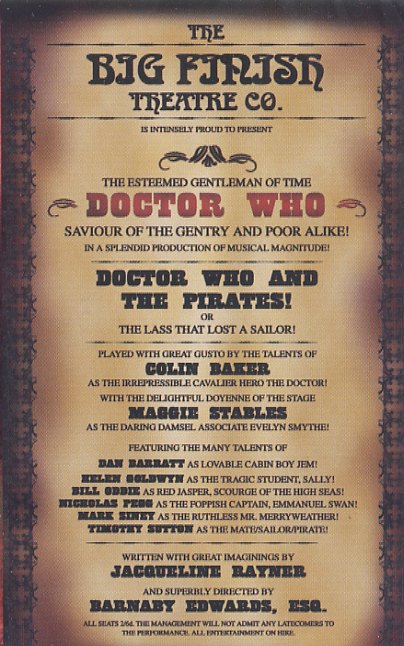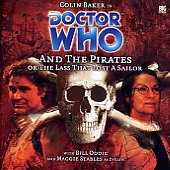 Doctor Who and the Pirates
(Jaqueline Rayner)

Big Finish's productions have recently become increasingly daring, yet it is doubtful anything has pushed the boat out quite like this musical extravaganza, titled "Doctor Who and the Pirates or the Lass That Lost a Sailor" to give it its full name.



Written by executive producer Jaqueline Rayner it stars Colin Baker, as the Sixth Doctor, and Maggie Stables, as Evelyn Smythe and is directed by Barnaby Edwards. Also this is the first time for a Big Finish Productions Doctor Who Audio to have a Musical Director - Timothy Sutton which is understandable when you realise that Sir Arthur Sullivan is responsible for most of the music. It was recorded over three days from 22nd to 24th January 2003.



Exactly how the musical element of "Doctor Who and the Pirates" fitted into the story remained under wraps until its release. It was though hinted as being probably not what you think and while this aspect is ultimately only part of the story, it adds to the richness of the production helps to make this one of Big Finish's most remarkable productions to date. However despite being the first musical Big Finish Doctor Who audio adventure this is not a completely unique approach as a musical Doctor Who has already been tried in the First Doctor's 1968 historical romp "The Gunfighters".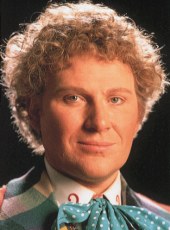 Sixth Doctor

Joining Colin Baker and Maggie Stables on this operatic odyssey is an impressive array of acting and musical talent. Owing to the nature of the script, director Barnaby Edwards has assembled a cast composed entirely of actors who are also trained singers: some will be new to Big Finish listeners, while others are familiar names who are seizing the chance to display their musical talents in Doctor Who!



The villainous pirate king Red Jasper is played by none other than Bill Oddie, known and loved by millions as a member of the classic comedy trio The Goodies. Boasting an impressive string of musical credits (he wrote and produced The Goodies' numerous songs, including their famous theme tune and the chartbusting hit "The Funky Gibbon"), Bill has also appeared in shows as diverse as The Detectives and Titmuss Regained, has written numerous comedy scripts for television and radio, and continues to delight nature lovers with his regular programmes on wildlife.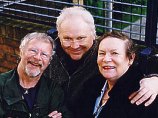 Bill Oddie with Colin Baker and Maggie Stables

Taking the pivotal role of Evelyn's student Sally is Big Finish regular Helen Goldwyn, who finally gets to flex her formidable singing muscles. Helen's many musical credits include Orpheus in the Underworld for the English National Opera and the lead role of Eliza Dolittle in Simon Callow's production of My Fair Lady.



Another familiar voice is Nicholas Pegg who plays the foppish Captain Emmanuel Swan. Nick's previous musical credits include Ariadne auf Naxos for Scottish Opera, the London production of The Fantasticks, and Alan Bennett's The Wind in the Willows at Birmingham Rep.



Taking the role of Mr Merryweather, Mark Siney is no stranger to the world of Gilbert and Sullivan, having toured in The Gondoliers and The Mikado. He has also wowed West End audiences in The Phantom of the Opera and Sondheim Tonight, and he recently toured with Russ Abbot in Oliver!



Young cabin boy Jem is portrayed by Dan Barratt, whose musical theatre roles include Lancelot in Camelot, Curly in Oklahoma! and Noel Coward in Red, Hot and Cole.



And finally, the production benefits from the expertise of top musical director Timothy Sutton, a composer in his own right who is rapidly becoming one of the most sought-after musical directors in the business. His credits include the national tour of HMS Pinafore, the New Vic's production of The Mikado, and the critically-acclaimed revival of Marat/Sade for the National Theatre. Timothy Sutton also plays the various roles of a Mate, sailors and pirates.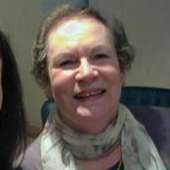 Maggie Stables

The story starts with Evelyn calling on one of her students, Sally, at her accommodation. Evelyn, bursting with joviality, tells Sally, who clearly doesn't want Evelyn to be there, that she has been travelling in a time machine and has a tale about pirates to tell her. Who could resist The Doctor and Evelyn's adventures in a wild, remote part of the eighteenth-century Caribbean? An entertaining enough story for anyone, surely? In the 'Golden Age of Piracy', there is bound to be adventure on the high seas; a plucky cabin boy; a wicked pirate captain and of course the search for buried treasure.



Despite the awkwardness between them Evelyn is extremely determined to tell Sally her pirate story, but the question is why? And why is Sally so hesitant about Evelyn being there?



Evelyn story starts with The Doctor and herself arriving in the cargo hold of a ship, which has just been attacked by the villainous Red Jasper and his band of cut-throat bandits, who it transpires are seeking someone who knows the whereabouts of hidden treasure on the mysterious Ruby Islands.



Realising there lives are in danger they try to get back to the TARDIS but find their escape route hindered by the pirates who are plundering the cargo ship "The Sea Eagle". After watching the TARDIS being transferred to the pirates ship "The Adventuress Fancy" The Doctor comes up with a desperate plan to allow them be reacquainted with their time machine - to hide themselves within barrels that will undoubtedly be mistaken for containing rum and so also plundered. However, The Doctors plan does not quite go to plan and Evelyn finds herself trapped and left aboard "The Sea Eagle", along with its captain, as it is set alight by the pirates.



Has her tale unfolds it becomes clear that there are inconsistencies in Evelyn's recount of events and so you start to consider the reliability of her ability as a narrator. It becomes evident that she is omitting something she doesn't really want to go into. Could the fact that she is so effected emotionally by the impact of a particular incident that this may have led her to unconsciously distorting what actually happened?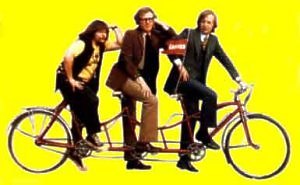 The Goodies

The Doctor on the other hand, when he arrives a bit later in Sally's flat, is much more clear cut in describing what occurred. Although it becomes apparent he can't help but allow his own characteristics effect the narrative, such as by having the pirate king Red Jasper complimenting him as 'stylishly dressed' and to tailor the dialogue to show that Jasper has no idea that he's endangering Evelyn with his desire to burn down "The Sea Eagle".



But what really happens when wicked Red Jasper's crew confront the loyal sailors of "The Sea Eagle"? While The Doctor and his academic companion see this historical incident from varying perspectives, why would they seek to connect it with Sally, one of Dr Smythe's favourite students, and from where does Evil Evelyn suddenly spring?



As Sally becomes upset by the storytelling we learn that it is the similarities of the demise of Jem, the likeable cabin boy, and a tragic event in Sally's life that is effecting her and Evelyn in more ways than one. Then there is having to deal with the foppish Captain Swan, who is reluctant to do anything that puts himself out; the dislikeable and ruthless first mate Mr Merryweather; the fearsome and brutal Red Jasper, pirate scourge of the seven seas and possessor of at least one wooden leg who has an obsession with getting the treasure at the expense of others lives; and the mysterious Pirate Queen, Evil Evelyn.



Moreover, amid the twists and turns and incidents piratical, what will happen when the sea shanties begin? If you think you know, beware! All assumptions are dangerous on this switchback ride to the heart of storytelling, where not all adventures can have happy endings and it is finally revealed what happened and why The Doctor and Evelyn are there for Sally.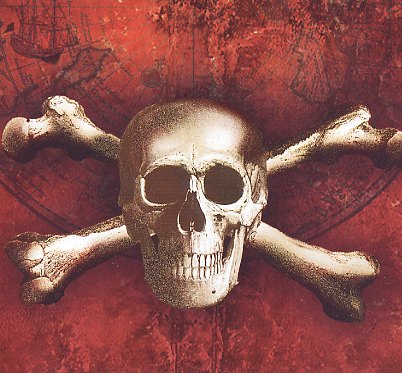 Notes:
Featuring the Sixth Doctor and Evelyn Smythe.
Serial Number: 7CH
Number of Episodes: 4
Cover Length: 100 minutes
Episode Lengths: 1 = 31'52", 2 = 30'41", 3 = 28'07", 4 = 35'24"
Total Story Length: 126'04"
This story takes place between "The Trial of a Time Lord" and "Time and the Rani".
Early Titles: "The Pirates" and "Doctor Who in an Exciting Adventure with the Pirates".
Cover Illustration: Lee Binding
Recorded: 22nd to 24th January 2003
Recording Location: The Moat Studios
Released: April 2003
ISBN: 1-84435-024-X
---
On the Back Cover:



All aboard, me hearties, for a rip-roaring tale of adventure on the high seas!



There'll be rum for all and sea shanties galore as we travel back in time to join the valiant crew of the good ship Sea Eagle, braving perils, pirates and a peripatetic old sea-dog known only as The Doctor!



Gasp as our Gallifreyan buccaneer crosses swords with the fearsome Red Jasper, scourge of the seven seas and possessor of at least one wooden leg! Thrill as Evil Evelyn the Pirate Queen sets sail in search of buried treasure, with only a foppish ship's captain and an innocent young cabin boy by her side! Marvel at the melodious mayhem which ensues as we sail the ocean blue!



And wonder why Evelyn still hasn't realised that very few stories have happy endings...


---
On the Inside Cover:



I FIRST SUGGESTED A PIRATE story to producer Gary Russell back when Big Finish's Bernice Summerfield audio range began, but on being asked for details could only mutter 'yo ho ho', and Gary wisely ignored me. Many years passed, and Gary decided he wanted a pirate story for Doctor Who, so I jumped up and down a lot until he let me write it. At the beginning, it was a fairly straightforward yarn of the high seas. Now - well perhaps not quite so straightforward. But I hope your timbers are still duly shivered. Although I'm afraid you'll have to bring your own rum.



For part of this play, I've hijacked the work of others infinitely more talented than myself. I hope no Gilbert and Sullivan devotees are disturbed by this appropriation: I'd like to assure them that it comes from a great affection and high regard and no disrespect is intended.


Jacqueline Rayner,
February 2003

Jacqueline Rayner overseas much of the current Doctor Who output, via the books, novellas, short stories and audios, on behalf of BBC Worldwide. In what passes for her spare time she has written an number of novels - including Earthworld and Wolfsbane for the BBC's Doctor Who range, The Squire's Crystal and The Glass Prison for Big Finish's Bernice Summerfield range - and the audio adventure The Marian Conspiracy. She'd prefer to spend time her cats, but there's always more work to be done…
---
Production Notes:



A number of writers had asked to do a story set on the high seas of the early 18th century; but Jac Rayner came up with the most unique approach. Although Doctor Who and music were hardly strangers (that other great historical romp, The Gunfighters back in 1968 also paired the genres), Big Finish were trepedatious. Knowing that Jac wouldn't take the idea over that metaphorical line into self-parody; we also recognised that the story needed to be handled by someone with a flair for musical theatre - hence director Barnaby Edwards and musical director Timothy Sutton were bought onboard (geddit?). And we checked that Colin Baker could sing - indeed, the operettas of Gilbert and Sullivan were hardly uncharted territory (geddit?) for him, which was rather useful. Barnaby was very keen to cast actors who were also accomplished singers - the musical portions of the story would fall very flat if the voices were too. Thus for the role of Red Jasper, the ultimate baddie, we secured the established singing and acting voice of the ultimate Goodie...
---
Full Cast List:
| | |
| --- | --- |
| The Doctor | Colin Baker |
| Evelyn Smythe | Maggie Stables |
| Jem | Dan Barratt |
| Sally | Helen Goldwyn |
| Red Jasper | Bill Oddie |
| Emmanuel Swan | Nicholas Pegg |
| Mr Merryweather | Mark Siney |
| Mate/Sailor/Pirate | Timothy Sutton |
The Production Team:
Writer
Jaqueline Rayner
Director
Barnaby Edwards
Sound/Music
Timothy Sutton
(with acknowledgements to Sir Arthur Sullivan)
Theme Music
David Darlington
Producers
Gary Russell and
Jason Haigh-Ellery
Executive Producer for the BBC
Jaqueline Rayner