Free Doctor Who for Subscribers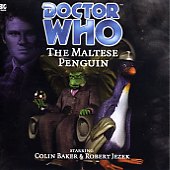 The Maltese Penguin
(Robert Shearman)

It was announced in 2001 that Big Finish Productions were planning to release a very limited special free CD which would be made available to subscribers to their Doctor Who audio range along with the release of the Eighth Doctor story "Neverland" in July 2002.



Titled "The Maltese Penguin" it stars Colin Baker, as the Sixth Doctor, and Robert Jezek, reprising his role as Frobisher the shape changing Whifferdill, facing up to their old enemy, Dogbolter! Also staring are: Toby Longworth, Jane Goddard and Alistair Lock.



It has been written by Robert Shearman, who wrote Frobisher's debut Doctor Who audio adventure "The Holy Terror", and is directed by Gary Russell. It was recorded on the 2nd November 2001.



The whole idea of this story is to have fun and Frobisher is a played very much as a funny character. This Shapeshifter who likes more than anything to be a Penguin, has emerged from the Comic Strip to become a more accepted Companion of The Doctor, thanks to Big Finish Productions.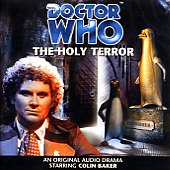 The Holy Terror
(Robert Shearman)

When we met Frobisher in The Doctor Who Magazine Comic Strip he was a Detective, and he has returned to his roots for this story. The role of The Doctor however, turns out to be rather peripheral (quite an achievement for this most dominant of Time Lords). The Doctor's main role in this story is to keep popping in just to see if Frobisher is alright.



Being a Shapeshifter Frobisher finds that he has to take on the appearance of a humanoid in order to solve the mystery. It seems obvious that he chooses to look like the Sixth Doctor. However, not only does he look like The Doctor but he also sounds like him, thanks to Colin Baker who gets to have a lot of fun with a New York slang and accent. And so Frobisher here is played by Robert Jezek and Colin Baker.



Frobisher has become tired of playing a secondary role to The Doctor on their travels together and so has elected to return to his roots pounding the mean streets as a private eye.



Business though is slow since his success on "The Case of The Absconded Feline", but his easy living lifestyle is interrupted when an irresistible femme fatale, called Alicia Mulholland, enters his office with a huge secret and a case for him to crack. Frobisher finds he is unable to refuse her request for help especially as he has the rent to pay.



As he becomes involved in a case full of murder and deceit Frobisher stumbles from one situation to another. But Frobisher is not alone because he is visited by The Doctor on a number of occasions under the pretence of checking that Frobisher is okay but in truth The Doctor really misses Frobisher and gets lonely on his own. But Frobisher is determined to go it alone despite being thrown from a cliff and the fact that The Doctor seems to be having more fun especially as The Doctor has been able to save the universe, twice, while he's been away!



But as the case unwinds it becomes clear that Frobisher is in a web of mayhem and intrigue, treachery, gangland killings and corrupt cops. What is the significance of what appears to be a sentient bloodstain and why is Dogbolter, a manic half frog/half man, so calculating in his pursuit of profit? Why is Dogbolter punctuated by explosions of rage and so frightened of a joke? What is Alicia Mulholland's real reason for involving Frobisher and why does he not recognise her?



Frobisher finds himself needing all his skills just to stay alive…



For Non-subscribers Big Finish may make this story available for purchase from specialist shops while stocks last during 2003.


Notes:
Featuring the Sixth Doctor and Frobisher.
Serial Number: SS3
Number of Episodes: 1
Cover Length: 70 minutes
Episode Length: 1 = 68'22"
This story takes place between the Marvel comic strip "The World Shapers" and the audio drama "The Holy Terror".
Cover Illustration: Lee Binding
Recorded: 2nd November 2001
Recording Location: The Moat Studios
Released: July 2002
ISBN: 1-903654-90-4
---
On the Back Cover:



"My friends call me Frobisher. My enemies call me Mr Frobisher. And the junk mail department of the Galatic Readers' Digest call me Mrs F R Rubbisher - but that's neither here nor there."

It was just another quiet day on the mean streets for Frobisher, private eye. But then a dame walks into his office and into his life. A dame who is drop dead gorgeous and drop dead deadly, offering him a case he just can't refuse.



Well, he could refuse it. If he really wanted to. But he has to pay the rent.



When their paths cross, Frobisher finds himself involved in a web of mayhem and intrigue. A web of gangland killings, corrupt cops, sentient bloodstains, and very rude hotel receptionists. A web of murder and deceit, treachery and fisticuffs.



That sort of web. You know. The sticky kind.
---
On the Inside Cover:



Dear fans and fellow avian-fixated whifferdills, once a tear, at a secret location, all the old Doctor Who Companions™ meet up. We discuss past adventures, monsters, fashion sense, and the problems of re-entering society once our contract on the programme ends. And increasingly, of course, compare how much our autographs are being sold for over the internet.



Sad to say, some of the other companions are most unwelcoming. They say I'm not canon, and refuse to speak to me. I feel they're just jealous that I'm the only shapeshifter amongst them. (Well, there's Kamelion - but he's usually broken anyway.) The treatment gets right up my beak, so I just mesomorph into a Tythonian ambassador for half an hour and have a good sulk. That usually shuts them up. But this year I think I won over even the most hard-hearted Hartnell hanger-on. I told them a story of one of my most fabulous exploits - a tale I call The Case of the Maltese Penguin. Or Frobisher Saves the Day, Again. They all sat transfixed as my epic tale unfolded, all mouths agog as they munched on their mince pies and slurped at their drashig juice.



And here now, because I'm lovely, is that very same story. Painstakingly pressed on to compact disc, and brought to life by a whole array of dubious accents. I hope you enjoy it. I do. But that might be because I'm in every scene.



Happy times and places,
| | |
| --- | --- |
| | |
---
Full Cast List:
Part One
The Doctor
Colin Baker
Frobisher
Robert Jezek and Colin Baker
Josiah W Dogbolter
Toby Longworth
Alicia Mulholland
Jane Goddard
Chandler
Alistair Lock
The Production Team:
Writer
Robert Shearman
Director
Gary Russell
Sound/Music
David Darlington
Theme Music
Mark Ayres
Producers
Gary Russell and
Jason Haigh-Ellery
Executive Producer for the BBC
Jaqueline Rayner