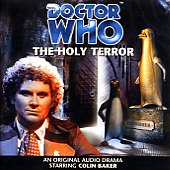 The Holy Terror
(Robert Shearman)

The release in November 2000 was another Sixth Doctor story. Titled "The Holy Terror" this story was recorded on the 5th and 6th August 2000 and has been written by Robert Shearman and is directed by Nicholas Pegg. Starring Colin Baker this adventure also features the debut of Frobisher, the shape-changing Whifferdill who featured mainly as a penguin in the Doctor Who Magazine comic strips and in the BBC novel "Mission: Impractical" by author David McIntee. Frobisher is voiced by Canadian actor Robert Jezek (who portrayed Sergeant Zbrigniev in the television episode "Battlefield").


This story is rather special due to the number of guest-cast members, who come from a variety of well known television shows and films including: Sam Kelly who is best known for his role as Bunny Warren in the sit-com Porridge, Captain Hans Geering in Allo Allo, and as a chauffeur in On the Up which also starred Joan Sims and Dennis Waterman; Roberta Taylor, who played the part of Irene in Eastenders and Peter Guinness who was a regular in both Spender and Casualty and who was also in the film Alien 3. Also starring are: Dan Hogarth, Helen Punt, Stefan Atkinson, Peter Sowerbutts, Bruce Mann and Robert Searman.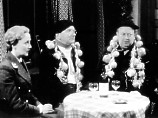 Sam Kelly (middle)
in Allo Allo

Due to Frobisher's interference the TARDIS is forced into an emergency landing. However, as usual the TARDIS materialises in a dangerous place and time. The Doctor and his shape-changing companion find themselves in a forbidding castle in a time of religious upheaval. When the old god dies, it means that his son Pepin becomes the new god. It also means that all heretics are to be slaughtered. But the new god is having difficulty in accepting his new role in life. When The Doctor and Frobisher are hailed as messengers from Heaven, they each become vital to the opposing factions in their struggle for power. But will they merely become the acolytes of the new order? Frobisher is about to find out as he is made a god himself!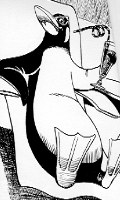 Frobisher

While Frobisher has to come to terms with his new status as an emissary from Heaven The Doctor becomes involved with an evil destructive force that has been growing deep within the crypt. Ritual assassinations is just one of the challenges the pair have to face in this horrifying environment. But age old rituals and customs are hard to overcome especially when the local population have come to terms with their destiny.



The nasty secret in the vaults turns out to be a child that has been hidden away for over five years by the embittered, deformed and unpleasant Childeric. However, this nasty little secret soon finds itself free from its confinement and is on the loose in its search to find its father. Chaos and anarchy follows its quest as this child has a bad untamed temper and is more than delighted to kill those unfortunate to get in its way.



The Doctor and Frobisher soon find out that they will be lucky to escape with their lives...


---
Important Information
After the trailers in track 15 at the end of the second disc carry on listening because 4½ minutes into this track you will find something extra from this story.

If you can not wait then you can listen to it below.


Play Sample


Notes:
Featuring the Sixth Doctor and Frobisher.
Serial Number: SS2
Number of Episodes: 4
Cover Length: 140 minutes
Episode Lengths: 1 = 37'25", 2 = 32'24", 3 = 31'15", 4 = 35'03"
This story takes place between Marvel comic strips "The World Shapers" and "The Age of Chaos".
Cover Illustration: Clayton Hickman
Recorded: 5th and 6th August 2000
Recording Location: Skylight Studios
Released: November 2000
ISBN: 1-903654-10-6
---
On the Back Cover:



The TARDIS lands in a forbidding castle in a time of religious upheaval. The old god has been overthrown, and all heretics are to be slaughtered. Obviously it isn't the sort of thing which would happen there every day - just every few years or so.



Soon after The Doctor and Frobisher are hailed as messengers from heaven, they become vital to opposing factions in their struggle for power. But will they be merely the acolytes of the new order - or will they be made gods themselves?



Evil is growing deep within the crypt. And the pair soon find out that they will be lucky to escape their new immortality with their lives.
---
On the Inside Cover:



When I was a teenage fan, I was a bit snobbish about the comic strip - if it wasn't on the telly, it didn't count. (Besides, I could never quite work out how to read it - do you look at the picture first, or the speech bubble?) 1985 changed all that - Doctor Who was put on suspension, and if I wanted to get my fix of new adventures during those long eighteen months I had to turn to Doctor Who Monthly instead. It was there I found Frobisher - and what a revelation he was! He reminded me why I had become a fan in the first place - Frobisher was witty, he was smart, and he was clearly having the time of his life ludicrously disguised as a penguin travelling in a spaceship ludicrously disguised as a police box. In short, he was as brilliant and bold as the programme itself.



Having had him convert me singlehandedly to the joys of the comic, it's a real thrill at last to be able to put a voice to the pictures of Frobisher.



"All hail Frobisher! All hail the big talking bird!"
Robert Shearman,
August 2000
---
Full Cast List:
Part One
The Doctor
Colin Baker
Frobisher
Robert Jezek
Captain Sejanus
Dan Hogarth
Eugene Tacitus
Sam Kelly
Berengaria
Roberta Taylor
Livilla
Helen Punt
Childeric
Peter Guinness
Pepin
Stefan Atkinson
Clovis
Peter Sowerbutts
Arnulf
Bruce Mann
Part Two
The Doctor
Colin Baker
Frobisher
Robert Jezek
Captain Sejanus
Dan Hogarth
Pepin
Stefan Atkinson
Eugene Tacitus
Sam Kelly
Childeric
Peter Guinness
Clovis
Peter Sowerbutts
Arnulf
Bruce Mann
Livilla
Helen Punt
Berengaria
Roberta Taylor
Part Three
The Doctor
Colin Baker
Frobisher
Robert Jezek
Pepin
Stefan Atkinson
Clovis
Peter Sowerbutts
Childeric
Peter Guinness
Arnulf
Bruce Mann
Eugene Tacitus
Sam Kelly
Captain Sejanus
Dan Hogarth
Livilla
Helen Punt
Sculptor
Robert Searman
Berengaria
Roberta Taylor
Part Four
The Doctor
Colin Baker
Frobisher
Robert Jezek
Berengaria
Roberta Taylor
Pepin
Stefan Atkinson
Clovis
Peter Sowerbutts
Eugene Tacitus
Sam Kelly
Captain Sejanus
Dan Hogarth
The Production Team:
Writer
Robert Shearman
Director
Nicholas Pegg
Sound/Music
Russell Stone
Theme Music
Mark Ayres
Producers
Gary Russell and
Jason Haigh-Ellery
Executive Producer for the BBC
Jaqueline Rayner