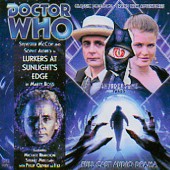 Lurkers at Sunlight's Edge
(Marty Ross)

The second 2010 Seventh Doctor mini-season concludes with "Lurkers at Sunlight's Edge" by Marty Ross, a horror story set in the Arctic Circle.



This story, released in November 2010, has been directed by Ken Bentley and was recorded on the 21st and 23rd June 2010. It stars Sylvester McCoy, as the Seventh Doctor, and Sophie Aldred as Ace. Also starring are: Michael Brandon, Kate Terence, Stuart Milligan, Alex Lowe, Sam Clemens and Duncan Wisbey.



Writer Marty Ross has revealed that he was given quite a lot of freedom to develop an exciting, rather creepy story without it having to be dependent on the other stories in this latest trilogy for the Seventh Doctor. 'So other than its being built around the characters of the TARDIS crew, it's really a self-contained piece'.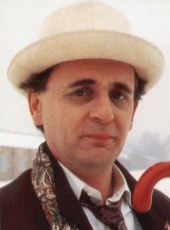 Seventh Doctor

'Basically, the whole idea of the story is to plunge the Doctor and co into something that many fans will recognise as strongly reminiscent of the world of author HP Lovecraft. I'd always been an admirer of Lovecraft's work and I was fortunate in that script editor Alan Barnes had just written a magazine article on Lovecraft at the time I pitched this, so he shared my enthusiasm', Marty Ross has revealed.



One character, CP Doveday, is even named to echo Lovecraft himself but there's extra irony there in that Doveday is based around the 'nicer' aspects of Lovecraft's character.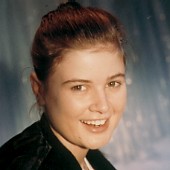 Ace

Because Lovecraft's Cthulu stories are still in copyright Marty Ross had to be careful not to get too close to the originals and to give this story an integrity of its own. But despite this there are definite echoes of Lovecraft's Cthulu stories and "At the Mountains of Madness" in particular'.



But what's in store for the Seventh Doctor, Ace and Hex during this adventure? Marty Ross has revealed 'They're plunged into some seriously bad company in some seriously bad weather on an island north of Alaska that shouldn't even be there. First of all, there's a very grandiose human villain to deal with, but later an alien menace of almost godlike dimensions'.


---
Big Finish Magazine - Vortex: Issue 21 (November 2010)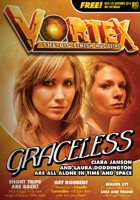 Vortex: Issue 21

Issue 21 of 'Vortex - The Big Finish Magazine' was also sent out to subscribers with this release.



In this issue...
1. Editorial - Nicholas Briggs

2. Sneak Previews and Whispers - The Crimes of Thomas Brewster & The New Eighth Doctor Adventures – Lucie Miller.

3. In The Studio - Thin Ice

4. Feature - Amazing Graceless

5. Q&A - The Briggs Issue

6. Q&A - Shear Genius

7. Q&A - Here's To You, Mr Robinson

8. Q&A - Rhythm & Views

9. Your Letters

10. Forthcoming Releases - November 2010 - August 2011



| | |
| --- | --- |
| Published By: | Big Finish Productions Ltd |
| Managing Editor: | Jason Haigh-Ellery |
| Editors: | Nicholas Briggs and David Richardson |
| Assistant Editor: | Paul Spragg |
| Design and Layout: | Alex Mallinson |
| Published: | November 2010 |
| Page Count: | 20 |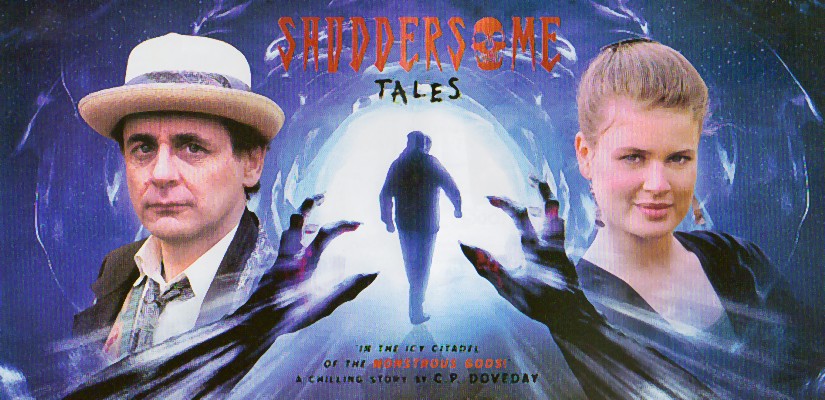 Notes:
Featuring the Seventh Doctor, Ace and Hex
Serial Number: 7W/O
Number of Episodes: 4
Cover Length: 120 minutes
Episode Lengths: 1 = 25'52", 2 = 25'28", 3 = 27'49", 4 = 27'47"
Total Length: 106'56"
Also features 27 minutes of trailers, music and special behind-the-scenes interviews with the cast and producers
This story takes place after "A Death in the Family"
Cover Illustration: Simon Holub
Recorded: 21st and 23rd June 2010
Recording Location: Moat Studios
Released: November 2010
ISBN: 978-1-84435-500-6
---
On the Back Cover:

1934: the TARDIS lands on a snowy island off the coast of Alaska – one that wasn't there four years, three months and six days ago, according to the Doctor. The island is dominated by a vast, twisted citadel. Inside it, the Lurkers lie dreaming. It's said when they wake the world will end…



Led by the ruthless Emerson Whytecrag, an expedition has come to the citadel, to exploit the horrors in its ebon-dark interior. Horrors just like those published in the pages of the pulp magazine Shuddersome Tales, where a hero's only reward is madness, death… or worse.



Horrors that the Doctor and his companion are about to wake up.

---
On the Inside Cover:

Writer's Notes: Marty Ross


It was in the eldritch, aeons-dank recesses of a bookstall in Glasgow's cyclopean-vast street market the Barras that I found myself reunited, amid the chill winds of last autumn, with those necromantic texts which had so haunted my boyhood years with demoniacal imaginings... the stories of HP Lovecraft.



Then, when infernal coincidence saw that intermediary between us and the stranger quarters of the universe Alan Barnes offering me, soon after, the chance to pen a second Doctor Who audio, my inflamed mind leapt to the strangest of all possible conjunctions between the sublime and the monstrous. A plunging of the good Doctor into my own homage to the world of the immortal HPL - and into a meeting with a fictional character ever-so-slightly modelled on the arcane scribe himself (although there's maybe a wee bit of yours truly mixed in there, which does not help me to sleep easy at night when the affrits howl...).



But seriously, folks, I thought it would be fun (and scary).


Director's Notes: Ken Bentley



I love the two movie adaptations of Edgar Rice Burroughs' novels starring the incomparable Doug McClure. Always have. They're great. And when I first read linkers it was those movies that sprang to mind. Mysterious islands and alien creatures, all wrapped up in a ripping yarn. Needless to say, I was very much looking forward to working on this play, and I'm happy to say it was as fun to direct as I hoped it would be. The cast was a joy, deftly bringing to life the bold, eccentric characters that Marty has penned so well, and Steve Foxon has once again excelled himself with a wonderful and exciting sound design and score.



But sadly it brings us to the end of the Seventh Doctor's season for this year, and to the end of some very lengthy story arcs. It's been a bit of a rollercoaster to say the least, and, as our heroes once again vanish into space and time, I'm left wondering whatever's going to happen next?!

---
Full Cast List:
| | |
| --- | --- |
| The Doctor | Sylvester McCoy |
| Ace | Sophie Aldred |
| Hex | Philip Olivier |
| CP Doveday | Michael Brandon |
| Dr Freya Gabriel | Kate Terence |
| Emerson Whytecrag | Stuart Milligan |
| Professor August Corbin | Alex Lowe |
| Slade | Sam Clemens |
| Captain Akins | Duncan Wisbey |
| Kinney | Alex Lowe |
| Patients | Duncan Wisbey |
| Karnas 'Koi | Sam Clemens |
| | |
The Production Team:
| | |
| --- | --- |
| Writer | Marty Ross |
| Director | Ken Bentley |
| Sound/Music | Steve Foxon |
| Theme Music | David Darlington |
| Script Editor | Alan Barnes |
| Producer | David Richardson |
| Executive Producers | Nicholas Briggs and Jason Haigh-Ellery |