Above St Paul's

London during the Blitz is not a safe place to be. But something has fallen to Earth, something more dangerous than a bomb and The Doctor and Rose Tyler arrive hot on its heels.



There's something chasing the children across the bombsites - it looks like a boy, but it isn't. It should have died, but it didn't. Why aren't the fatally wounded dying?



But The Doctor and Rose are not the only time travellers in London as Rose soon finds out when, at the height of the Blitz, she finds herself hanging on for her life on the rope of a barrage balloon right in the middle of air raid. Luckily for her she is spotted by the dashing Captain Jack Harkness who just happens to have an invisible spaceship tethered to Big Ben…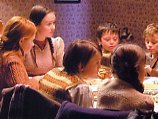 The Children

But what's he doing in 1941? And, more importantly, who'll have the last dance...?



With a zombie army on the march as a plague spreads through wartime London it is up to The Doctor to find out what is happening. What is the connection between Nancy and her "brother" who should have died in an air raid? Why is she and the ex-evacuee children so scared of touching him. Why is he so desperate to find his "Mummy" and what is the connection between him and all the patients at a nearby hospital.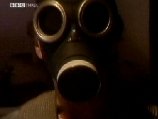 Zombie Attack

There The Doctor meets Doctor Constantine, who is able to reveal details of the strange plague before he to succumbs to its effects. Trapped within a house Nancy comes face-to-face with her "brother" and at the same time The Doctor, Rose and Captain Jack Harkness are being menaced by gas-mask-wearing zombies.



It's a race against time to escape from the hospital, learn the secrets of what really crashed at the bomb site and to find the little boy's Mummy – and all before the zombies gain access to the bomb site which, if The Doctor's history is correct, is to be the target of another German bomb. Luckily he has Captain Jack Harkness to help him especially as it was Jack who brought the plague ridden capsule to war stricken London in the first place.