Black Adder

A major part of the 1999 Comic Relief "Red Nose Day" charity night on Friday 12th March was the screening of four new episodes of Doctor Who. This 25 minute story titled "The Curse of Fatal Death" starred Rowan Atkinson, of Black Adder and Mr Bean fame (pictured left) who played the ninth incarnation of The Doctor in this one-off comedy special that was written by Stephen Moffat, a well respected TV writer and Doctor Who fan.

Julia Sawalha, who played Saffy in Absolutely Fabulous, played The Doctor's assistant, and soon-to-be wife, Emma. Accomplished movie actor Jonathan Pryce, best known for his role as the villain in the James Bond film Tomorrow Never Dies, played the part of The Master. Not only did the Daleks also make an appearance but so did Joanne Lumley playing the part of one of the regenerations of The Doctor.

During the story, which pitted The Doctor against The Master and his allies the Daleks, The Doctor is forced to regenerate a number of times, allowing a series of famous actors the opportunity to cameo as the famous Time Lord. These actors playing the part of The Doctor were; Richard E. Grant, Jim Broadbent, Hugh Grant and finally Joanna Lumley.

In true Comic Relief fashion, the production was made possible by many artists and companies donating their time and facilities and was shot at Pinewood Studios. Six Daleks in all were used most of which belonged to the BBC and were brought out of storage. Even the sonic screwdriver made an appearance. The show used a re-edited version of the original Tom Baker opening titles, with the "O" in WHO replaced by a red nose and the music used during the episodes was mainly material that had been recorded for the series during the 80's and included the regeneration music from "Logopolis".

See page 15 of the Radio Times (6 - 12 March 1999) for more information plus a great picture of Rowan in a costume very similar to that of Paul McGann's Doctor. There is also an in-depth article covering this story in issue 278 of The Doctor Who Magazine which was published in May 1999.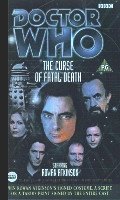 Comic Relief Video

It has been reported that Doctor Who had the highest rated portion of the BBC broadcast, with 9.8 million viewers watching episode one. Comic Relief's Red Nose Day started from 1900 on BBC 1 on Friday 12th March and over 13 million pounds was raised for charity during the evening.

Fans who were unable to see this story on the night will be glad to hear that the BBC released this story on video in September 1999, with behind the scenes material also added, to raise even more money for Comic Relief.