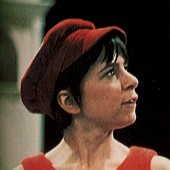 Dodo
(1966)
Jackie Lane
Born in Manchester Jackie Lane spent 2 years working at the Manchester Library Theatre. She then moved to London in 1962 to work for the BBC acting in small parts in television programmes including Z Cars and in 1963 in the soap opera Compact. She also appeared in a number of various films. In 1963 she was considered for the part of Susan but this part was eventually given to Carole Ann Ford. After leaving Doctor Who she gave up acting and after working, as a secretary, for the Australian Embassy in Paris and then running an antiques business she joined a theatrical management company.

Unfortunately Jackie Lane died in June 2021 at the age of 79.

When the TARDIS materialises on Wimbledon Common in 1966 a young schoolgirl named Dorothea 'Dodo' Chaplet mistakes it for a real police telephone box and runs inside, seeking to escape the mysterious being called Joseph. So concerned with escaping Joseph, she was initially seemingly unconcerned about the futuristic console room that she has found herself in ("The Massacre of St. Bartholomew's Eve"), simply believing the TARDIS to be an advanced aircraft when it only travelled to New York while remaining in Dodo's present ("Salvation"). Although The Doctor initially contemplated sending her home - although Dodo quickly told him that her parents were both dead and her great-aunt couldn't be bothered with her (The only actual lie; her great-aunt was a strict disciplinarian who forced Dodo to abide by several rules rather than allowing her to travel like she wanted) - after spending time with her as he investigated the presence of the so-called 'Gods of Myth' - of which Joseph was a member, his bond with Dodo providing The Doctor with important assistance in deducing the true nature of the 'Gods' - The Doctor invited her to join him in his travels on a more full-time basis.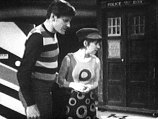 The Celestial Toymaker

Still initially unaware of the TARDIS's abilities as a time machine, when the TARDIS materialises in a jungle, after leaving New York, Dodo is convinced that they are still on Earth and that Whipsnade Zoo is the most likely location especially when, while exploring, they come across an elephant. She only accepts what The Doctor and Steven have been telling her about the TARDIS when they realise that are in fact on a large spacecraft which is on a seven hundred year journey from a dying Earth to the planet Refusis ("The Ark").



Like Vicki it turns out that she is an orphan so The Doctor sees her as someone who he can look after and make a fuss of. The Doctor also treats her as a replacement for his granddaughter and he even confesses to Steven of how much she reminds him of Susan despite her initial Cockney accent and her liberal use of sixties slang. Although The Doctor disliked her use of her nickname, Dodo insisted on being referred to as such, their initial encounter with the Gods helping her recognise that she should be her own person rather than what other people defined her as. Dodo was a very fashionable and trendy young companion and she took full advantage of the extensive TARDIS wardrobe. She even wore outlandish cowboy clothes when she found herself in the Wild West. She even persuaded Steven to do likewise. She was also the first companion to wear a miniskirt!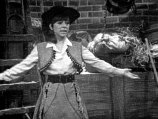 The Gunfighters

Dodo was the essence of the mid-Sixties British schoolgirl trying to find her place in the World. She was always cheerful despite being fallible and inexperienced, seeking desperately to travel and escape the confines of her old life with her restrictive great-aunt. Dodo though had a tendency to get in everybody's way despite doing her utmost to try and help The Doctor, such as when she was captured by the god-like Joseph ("Salvation") or when she was forced to work with a group of actors in an altered version of the nineteenth century while The Doctor was thrown in prison ("The Man in the Velvet Mask").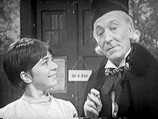 The War Machines

She and Steven made a good and effective team even though they had very little in common with each other. They had a good rapport and there was plenty of gently sparring between them. Steven saw and treated Dodo as a small child and this is well demonstrated when he warns the Guardians on the Ark, when shown the statue that is being constructed, that she will have 'the whole lot down' as she clambers over the building blocks. Following Steven's departure, The Doctor and Dodo's relationship, although initially close, went through some rough patches, such as when The Doctor was forced to erase an altered Earth created as a result of an alien experiment despite Dodo's own attachment to the people of that world; she even lost her virginity to an actor called Dalville before her departure ("The Man in the Velvet Mask").



When the TARDIS returned again to 1966 London, Dodo back in her own time, decided to stay behind so that she can recover from her encounter with a revolutionary new computer called WOTAN which had exerted a hypnotic influence on her. However, rather than face The Doctor directly she sent a message to him via Ben and Polly ("The War Machines"). It was later revealed that the experience was so traumatic that it left Dodo with serious psychological damage, unable to fully recall her travels with The Doctor as anything other than inexplicable hallucinations, being shunted from various hospitals and forced to endure everything from near-rape to electroshock therapy until she was transferred to the Glasshouse, a facility run by the currently-undercover Master who interrogated her for information about The Doctor. Although she eventually escaped, becoming the assistant and lover of journalist James Stevens - who was being manipulated by The Master to believe that UNIT was a corrupt threat to the general population and had discovered the existence of the Glasshouse - and achieving some degree of peace, she was later murdered by an agent of The Master when Stevens' actions threatened to reveal The Master's roll in the plot to discredit UNIT. As a result, Stevens to mourn both her and their unborn child - Dodo was pregnant when she was killed - being left in even further despair when he learned of UNIT's fundamentally benevolent agenda and how essentially pointless his actions had been, requiring a pep talk from the Third Doctor to regain his old spirit ("Who Killed Kennedy").



Despite her short time with The Doctor, and her equally tragic death, it is clear that The Doctor still remembers her with great affection and regret for her final fate. Although never expressly identified, a description of a 'small, dishevelled man with an air of sadness' who attended her funeral suggests that the Second or Seventh Doctor were present (Most likely the Seventh due to his greater control of the TARDIS and his more frequent lack of companions while acting as a free agent; it is unlikely the Time Lords would allow the Second Doctor time off to attend a funeral when he was forced to work for them prior to his exile, to say nothing of it being unlikely for the Third Doctor to do nothing to help an old companion if he had the chance), and when the Tenth Doctor and his current companion Martha Jones rescued a dodo from an obsessed collector, The Doctor named the dodo 'Dorothea' after Dodo (Although he never told Martha why he chose the name) ("The Last Dodo").